-Olga, how about we go to Chile?
This was the question my husband asked me one day last year. At that time, a Spanish carrier was running a ticket promotion. And if you were lucky enough, you could end up with crazy cheap tickets to the other side of the world.
Sounds like my cup of mate tea?
You bet.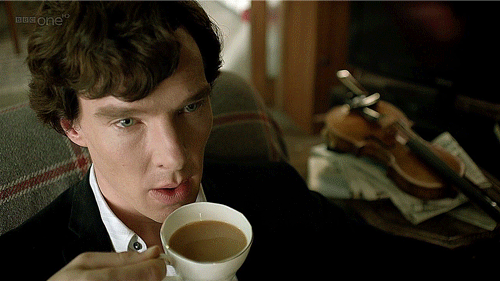 And there we were: packing our backpacks, planning the trip, and getting ready for another 13-something-hour flight to take us to the land of the unknown. Because to me, that's exactly what Chile used to be.
Table of contents:
Getting there
Chile is freaking far away from where I live. To be honest, looks like it's far away from pretty much any place on the planet (except for its South American neighbors). From head to toe, Chile is 4,300 km. And Santiago, our destination, is conveniently situated right in the middle of this shoestring of a country.
Since we took advantage of the Spanish air mile promotion, we ended up flying via Madrid. I believe it's one of the few European cities (London, Paris, and Barcelona might be the other three) that have direct flights to Santiago.
Folks from North America are luckier, as there are quite a few flights available. But even flying in from Mexico would take you about 8 hours.
A bit of background
There is evidence that humans frequented the Monte Verde valley (Southern Chile) as long as 18,500 years ago. About 10,000 years ago, indigenous people settled here for good. The invasive Inka culture ruled only shortly in northern Chile. Other important civilizations in Chile were Aymara farmers (grew potatoes and maize), Atacameño culture (were keen on hallucinogenic substances), and Mapuche (shifting cultivators from Patagonia).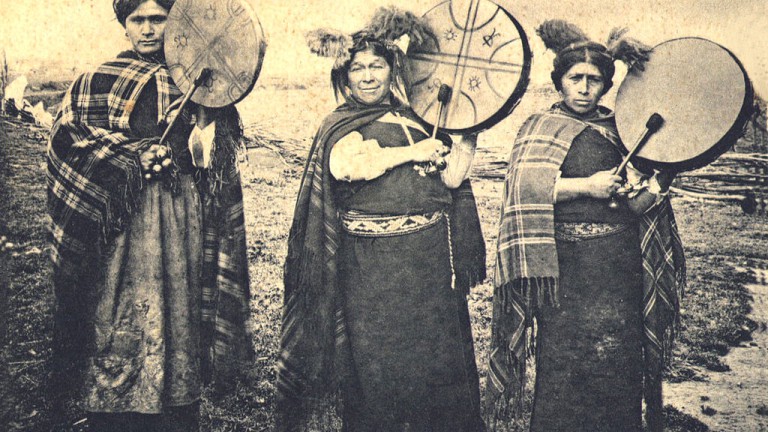 Mapuche people. Source
Fun fact: the Chilean province of Magallanes was once home to Selk'nam people who could withstand extreme temperatures with little or no clothes. When asked how come they felt no cold, a Selk'nam man replied, 'My whole body has become face'.
In 1495, the papal Treaty of Tordesillas was signed between Spain and Portugal, delivering all territories west of Brazil to Spain. The city of Santiago was founded in 1541, when the Spaniards led by Pedro de Valdivia scrambled south through the desert and reached fertile Mapocho valley.
During the next 5 centuries, Chile went through colonial rule, a few revolutions, civil war, and military dictatorship. Today, albeit boasting the highest GDP in South America, the country is still struggling with high income inequality.
The power of the Catholic church is still remarkably high. For instance, divorce only became legal in 2004. And to 2017, Chile had one of the most restrictive abortion penalties in the world, criminalizing its practice without exception.
Santiago
The first thing that comes to mind when I recall my visit to Santiago is smog. The city sits in a valley between the Ands and the coastal mountain range. With the population of around 5.6 million people, it gets covered in the blanket of smog coming from transport and vehicles.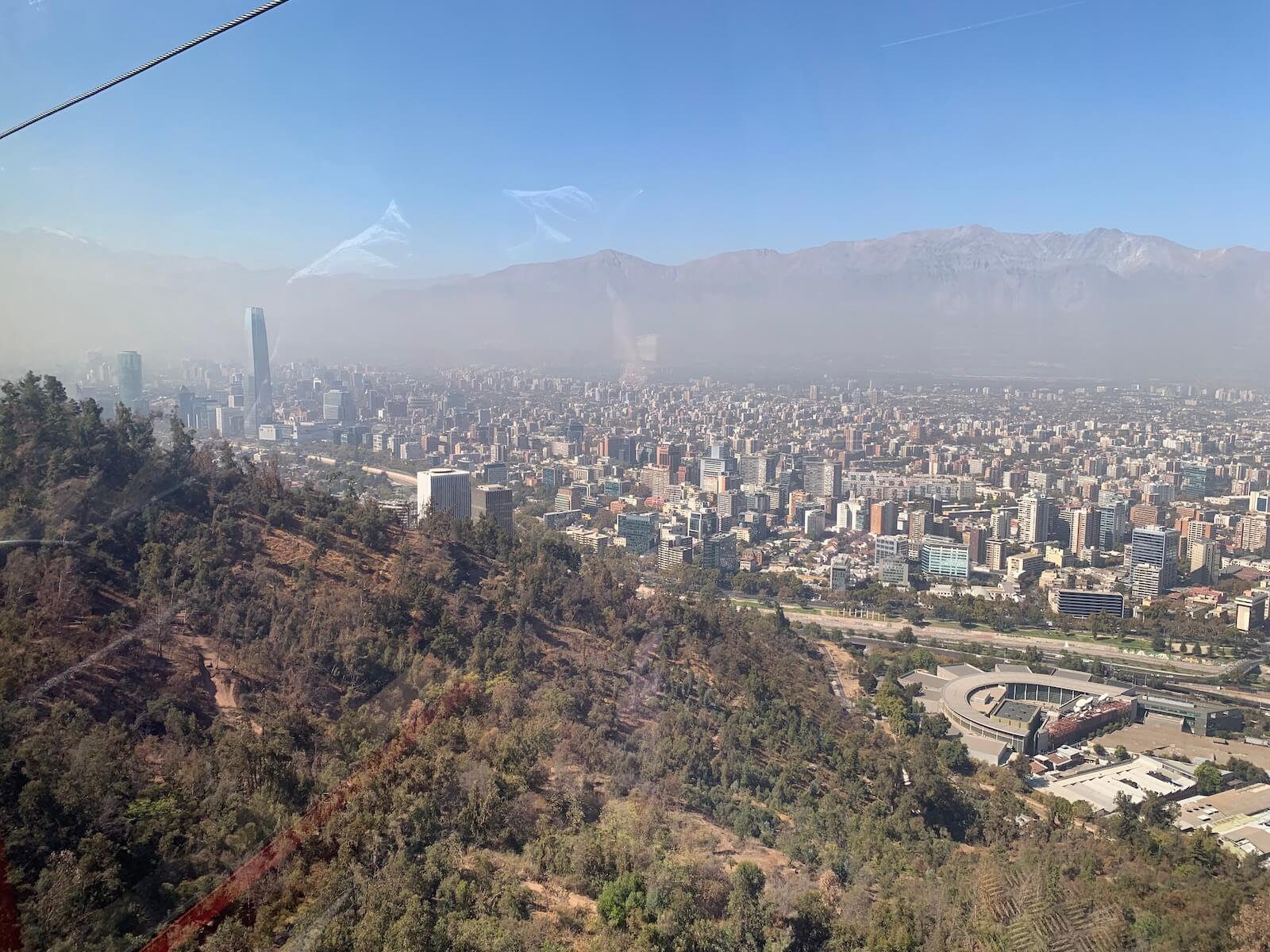 When compared to other South American capitals, Santiago seems to come up short. Not as cultural as Mexico City, not as colonial as Lima. But at the same time, it's less chaotic, less run down, and (seemingly) less dangerous.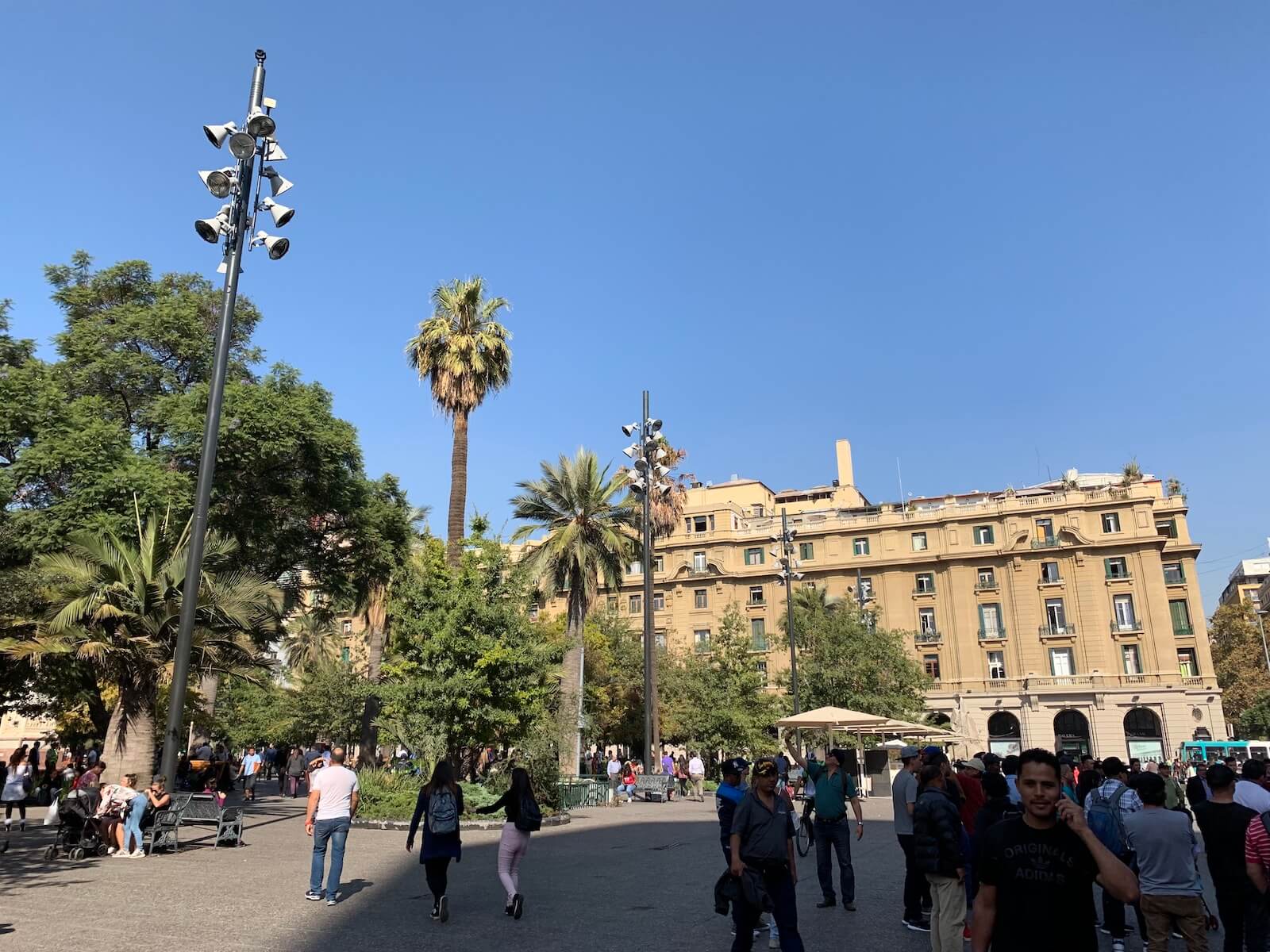 Plaza de Armas in Santiago
Whether you are heading to the deserts of Atacama or going hiking in Patagonia, chances are, your trip will pass through Santiago at some point. Consider spending a couple of days in the city, exploring it like a local.
Things to do in Santiago
Santiago comprises several neighbourhoods (or barrios) worth visiting. The central part (Santiago Centro) includes the climeable Santa Lucia hill, Plaza de Armas, and the local Wall Street analog called La Bolsa.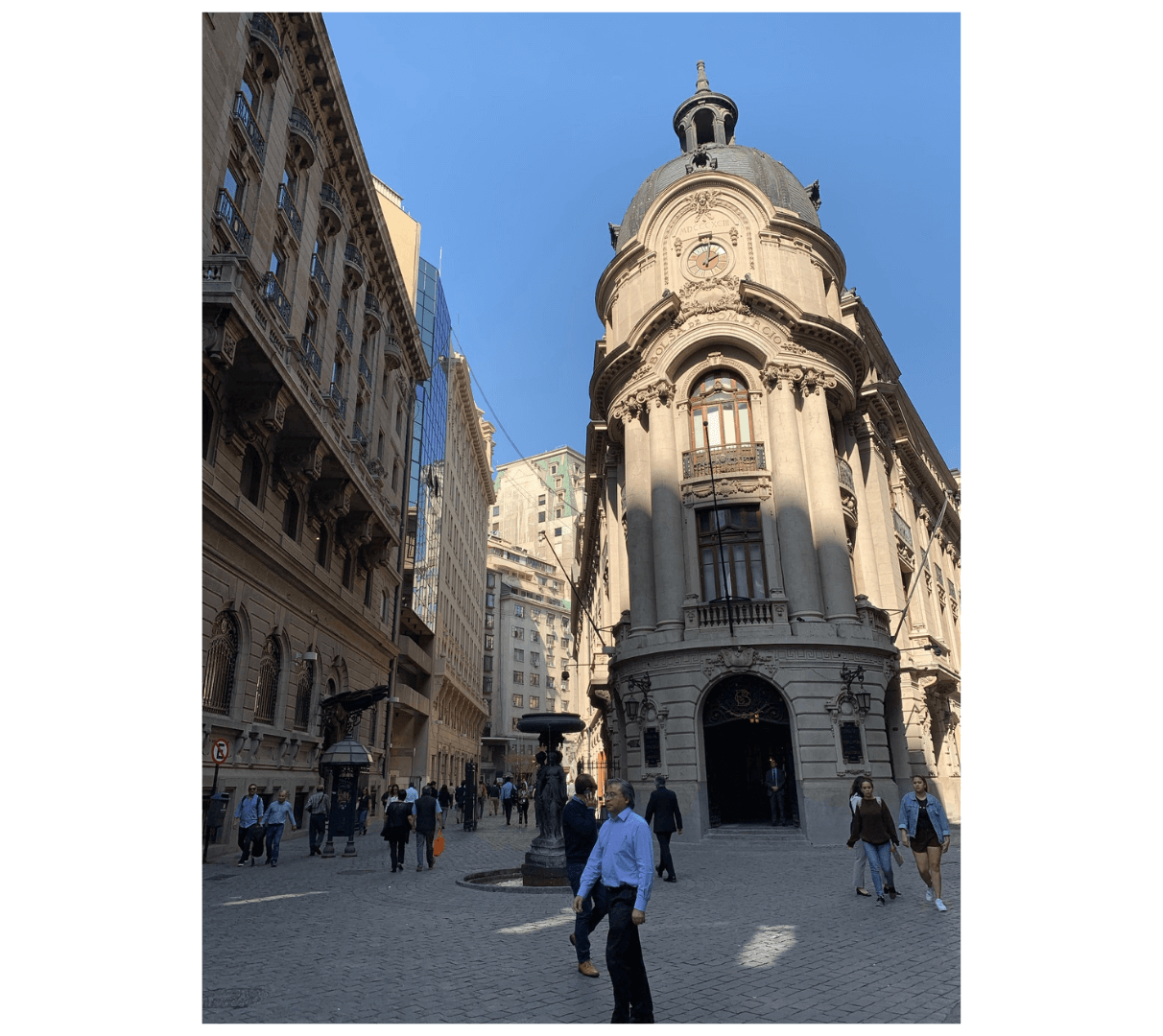 Barrio La Bolsa in Santiago
Travel guides also recommend visiting places like the Museo Chileno de Arte Precolombiano and the National Library. But honestly, they didn't turn out to be anything special.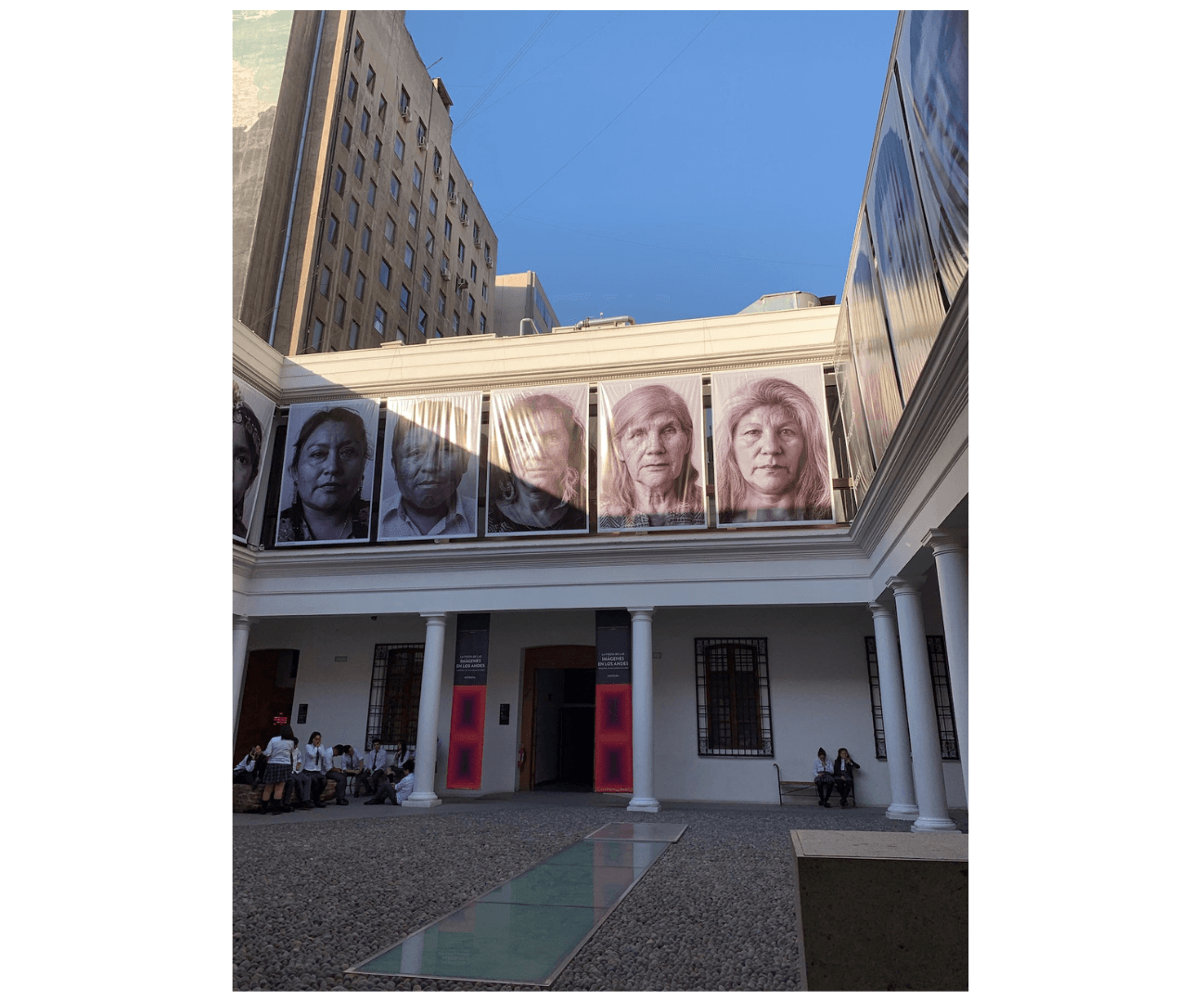 Museo Chileno de Arte Precolombino
It's much more exciting to explore the city from within. If the weather permits, go up the San Cristobal hill for some excellent views of the city. Barrio Lastarria is a popular tourist hub with some of the hipsterest restaurants and bars in town. Barrio Providencia is a fancy neighbourhood with the access to teleferico up the San Cristobal hill. And Barrio Bellavista is where all the partying happens.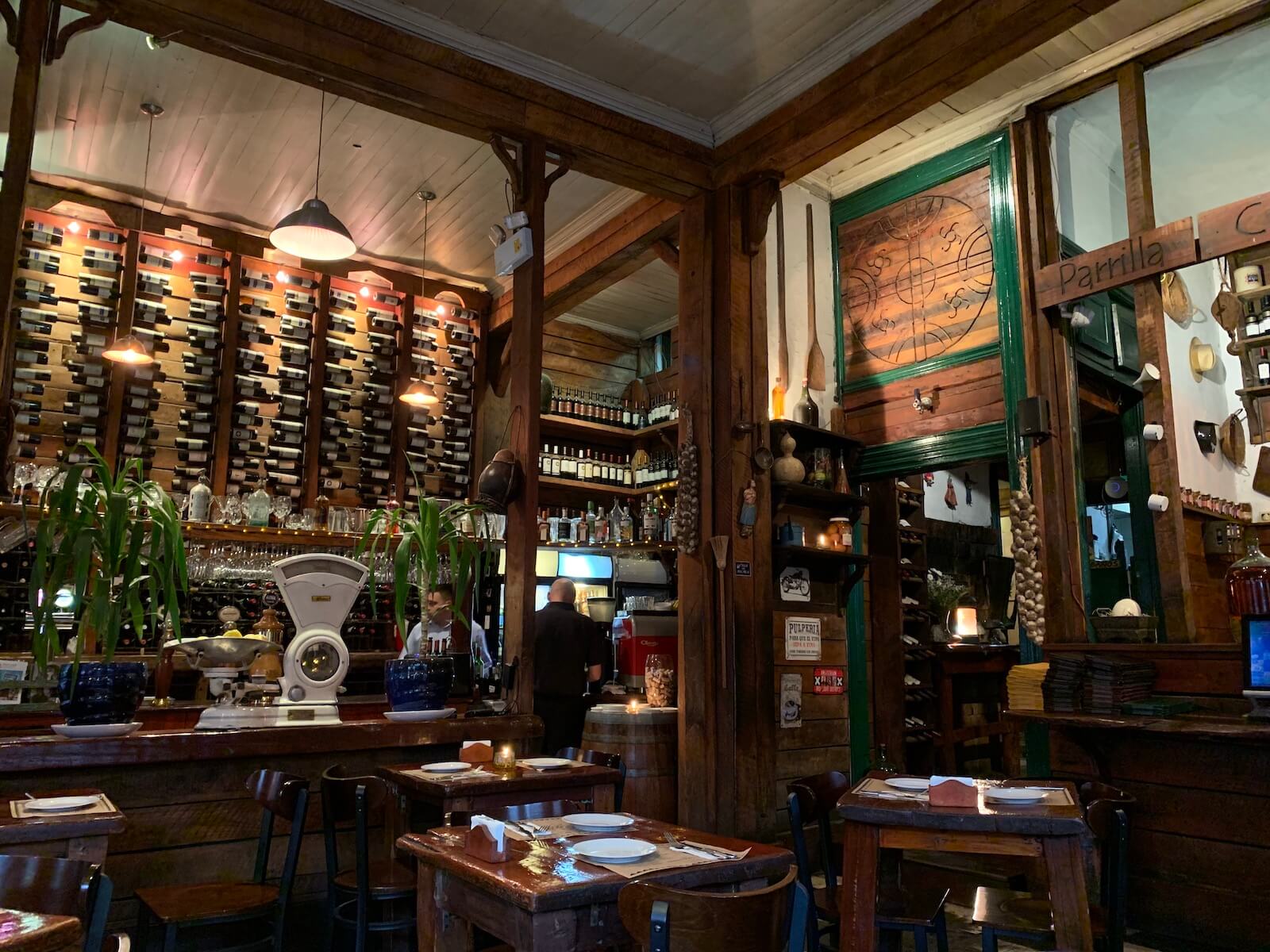 Restaurant Patagonica Sur in Lastarria
Around Santiago: Valparaíso
If you have an extra day in Santiago, I strongly recommend going to Valparaíso, about 120 km northwest from the capital. It's the Chile's second-most-important city and the country's culture capital. Getting there is fairly easy: just take a bus from the Terminal Rodoviario in Santiago. The buses leave every 15-20 minutes and even have AC!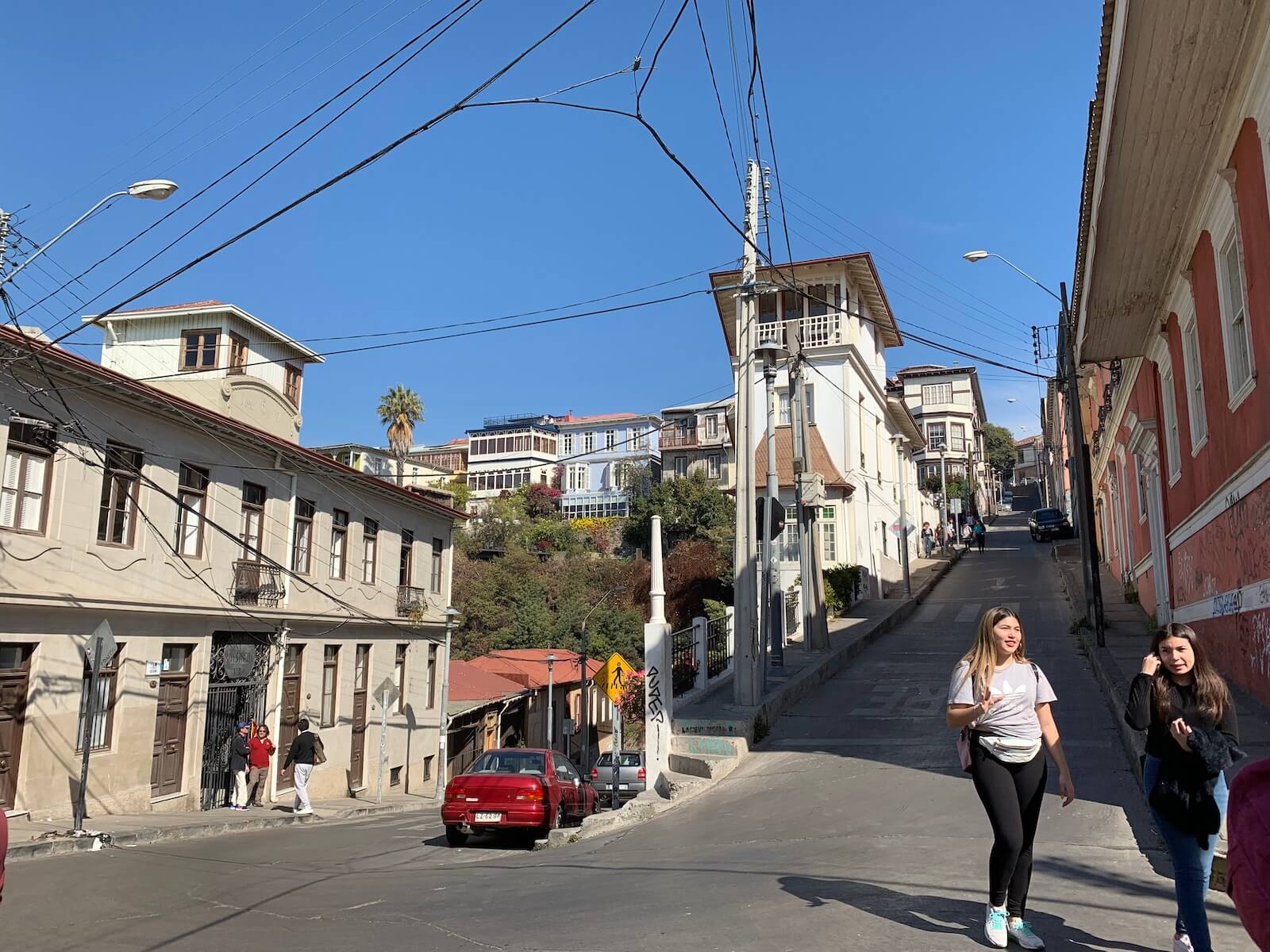 Valparaíso is beautiful. Located on chaotic hills (42 in total!), it resembles Lisbon, what with all its colorful houses and high stairs. It used to be a buzzing port but then in the 20th century, things somewhat dilapidated. First, a devastating earthquake wiped out most of the city's buildings in 1906. Then, the opening of the Panama Canal had a similar cataclysmic effect on the local economy.
However, these days, things are getting back to normal. Chile's fruit export boosted the local port, and Unesco sealed the deal by giving Valparaíso the World Heritage status in 2003.
Although Valparaíso has a handful museums and some beautiful historic buildings, the best thing you can do there is just walk its streets and hills. The most touristy ones are probably Cerro Concepción and Alegre ("cerro" is the Spanish for "hill").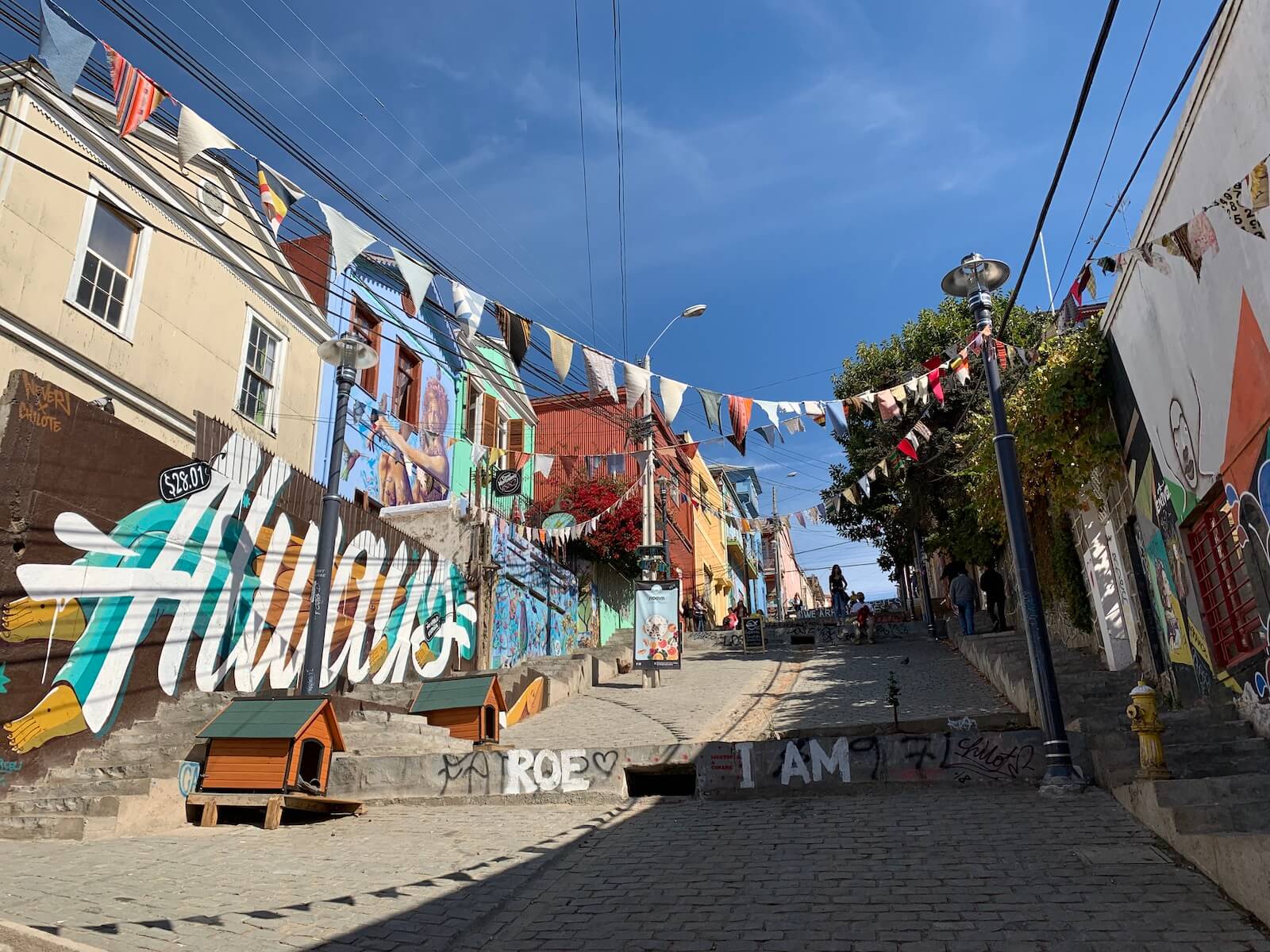 Cerro Concepción streets
The Concepcion and Alegre hills have some of the city's best cafes and restaurants, although no bars, as loud late-night music is banned. In case you are not in favor of going up and down the hills, the city's oldest Ascensor Concepción comes to your rescue.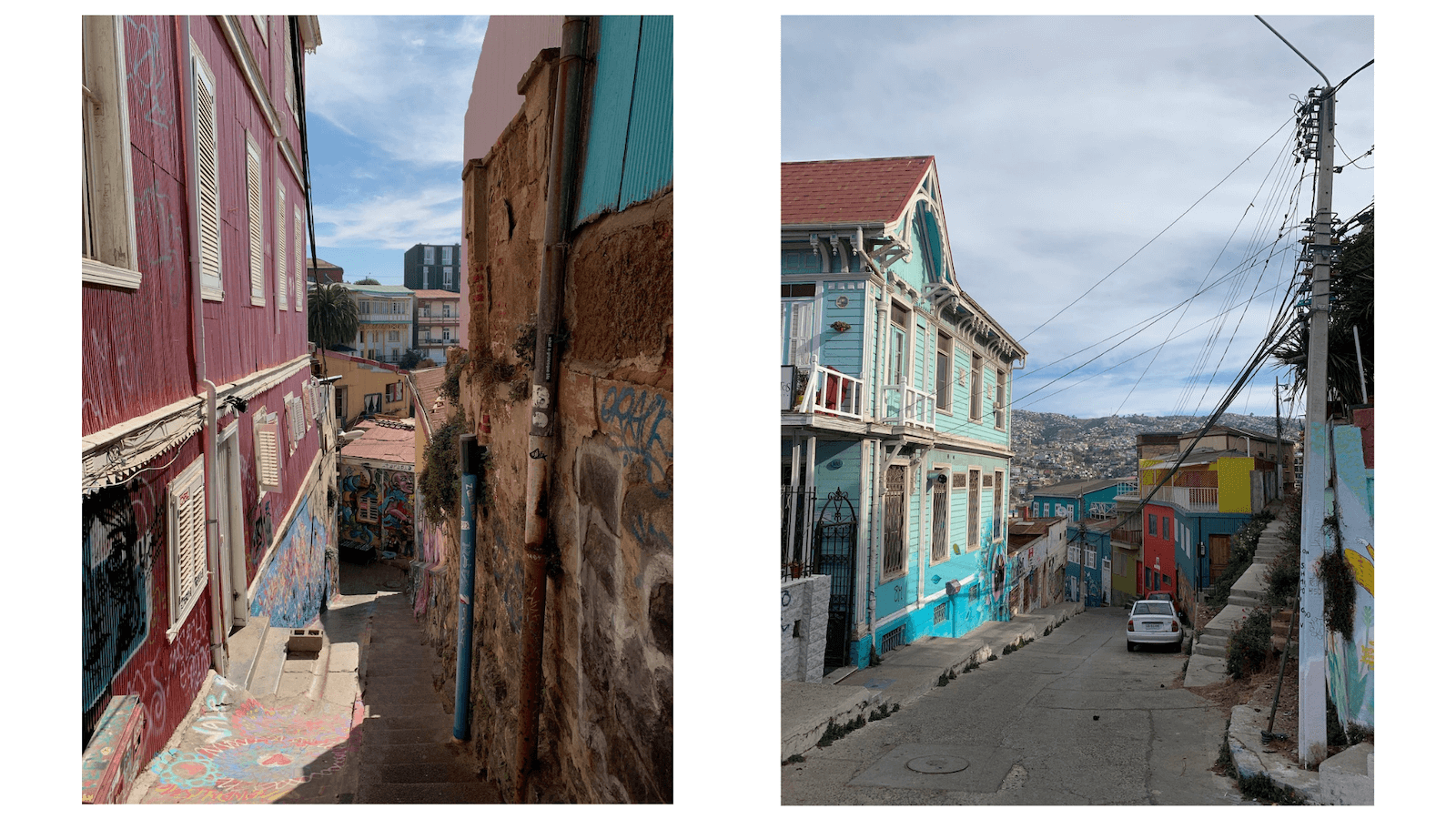 The colorful buildings of Valparaíso
Once you drift off to less touristy areas close to the port or near the bus station, you see the real face of Valparaíso, which might not be as rosy. Run down buildings, garbage here and there, people sleeping in the streets – in other words, just the regular attributes of any big city. But still, this doesn't diminish Valparaíso's vibes, making it a perfect field trip from Santiago.
Chilean Patagonia
Going to Chilean Patagonia and visiting its world-famous national park Torres del Paine was probably one of the main reasons to go to Chile. With its romantic names like Ultima Esperanza (Last Hope) and Tierra del Fuego (the Land of Fire), Patagonia could be a perfect set for the next Game of Thrones season.
A lot of tourists only come here for the park's main attraction, the peaks of Torres del Paine. Which is a pity because the park has so much more to offer.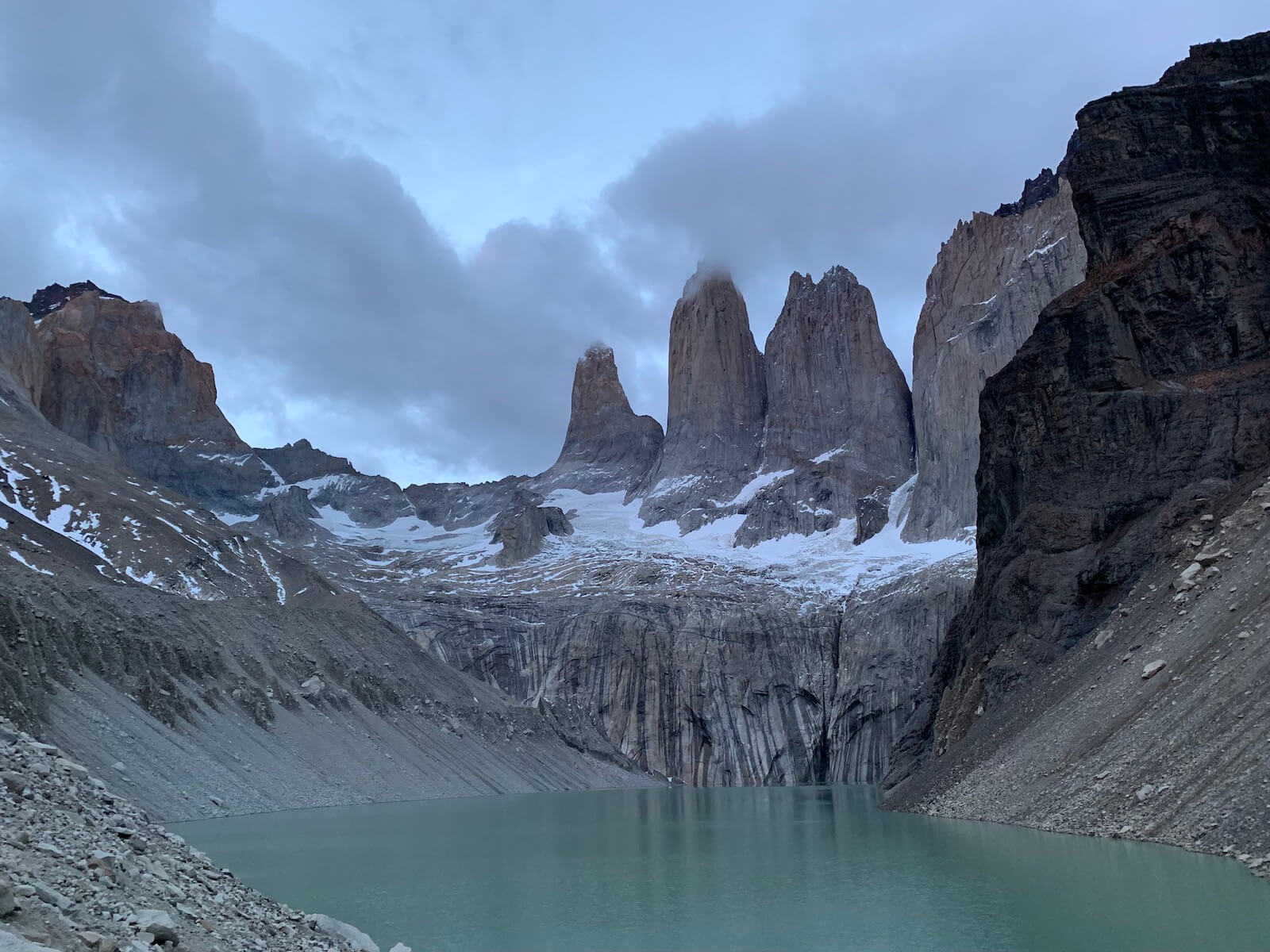 Torres del Paine
Here's a short story of our 5-day trek in Torres del Paine.
Getting there
Torres del Paine is located in the south of Chile. To get there, you will first need to take a plane from Santiago to Punta Arenas, then a bus to Puerto Natales. The bus leaves right from the airport. We were lucky to catch one right upon our arrival from Santiago and didn't have to wait too long.
With names like Ultima Esperanza (Last Hope) and Tierra del Fuego (the Land of Fire), Patagonia could pe a perfect set for the next Game of Thrones season.
From Puerto Natales, this Gore-Tex Mecca, take a transfer bus to the national park. You can arrange all the tickets online; just google a convenient day and time.
Torres del Paine. Day 1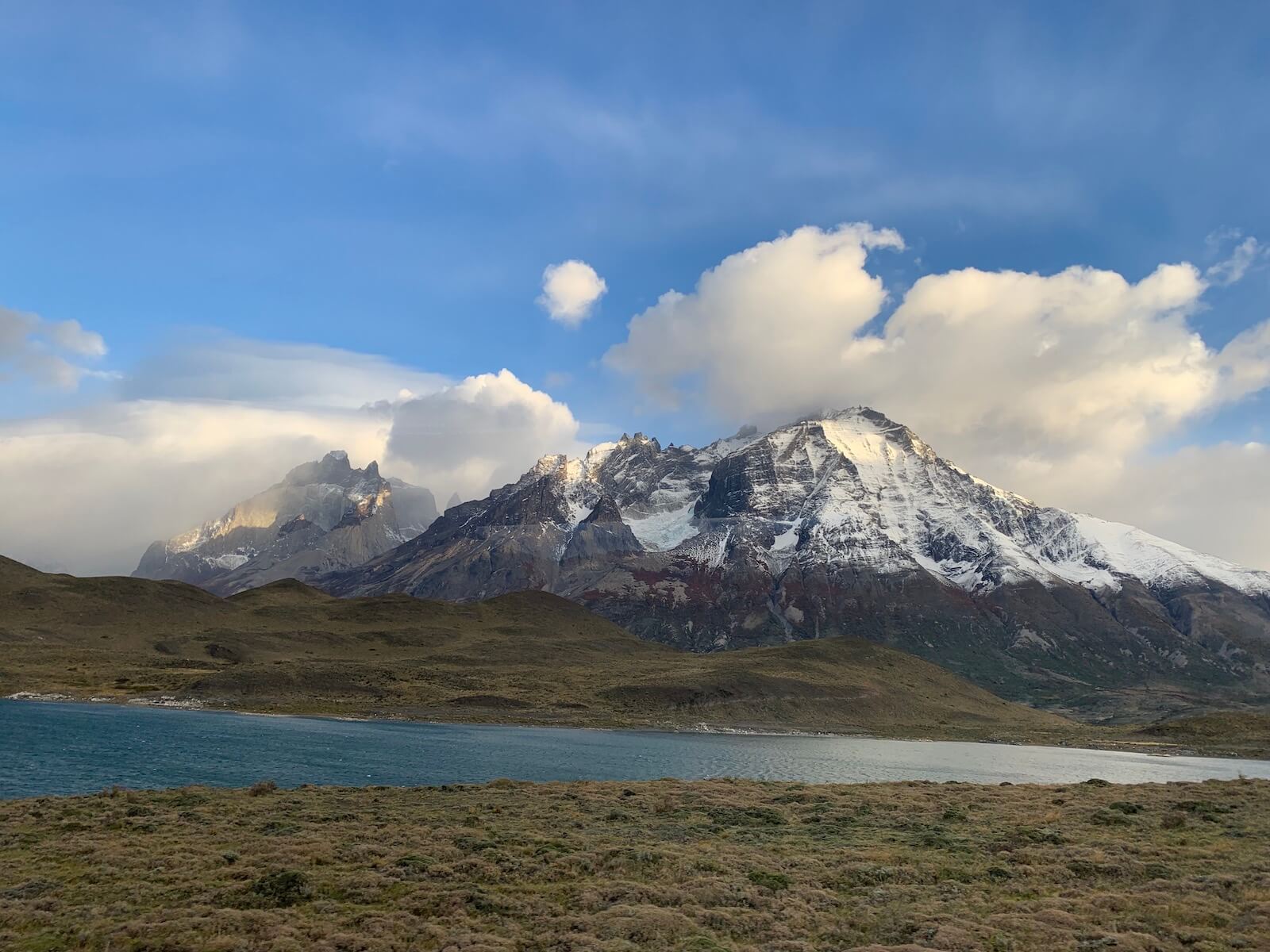 We did the popular W-trek, named this way for its shape. Most people trek the 'W' from east to west, starting at Laguna Amarga. However, we did it the other way around and got stunning views of los Cuernos as a reward.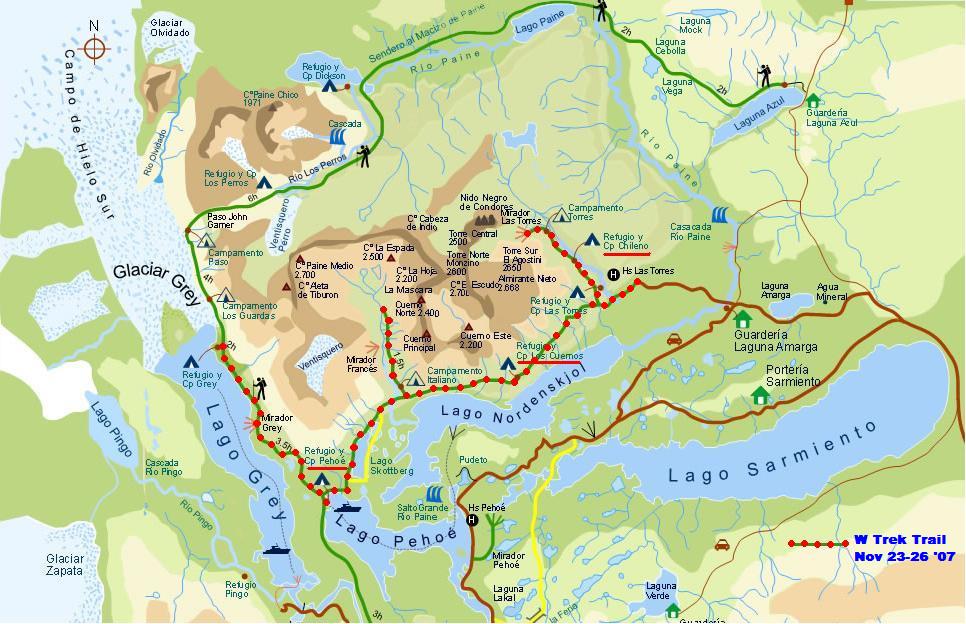 W trek. Source
When you arrive at Torres del Paine, you will first need to sit through the lecture on how to behave in the park. No wonder the administration take extra caution: in 2005, a reckless hiker burned down 10% of the park using a portable stove in windy conditions.
If you decide to head west to east like I did, another bus will take you from the park entrance to Pudeto. From there, you'll need to take a boat to the camping site Paine Grande where your trek begins.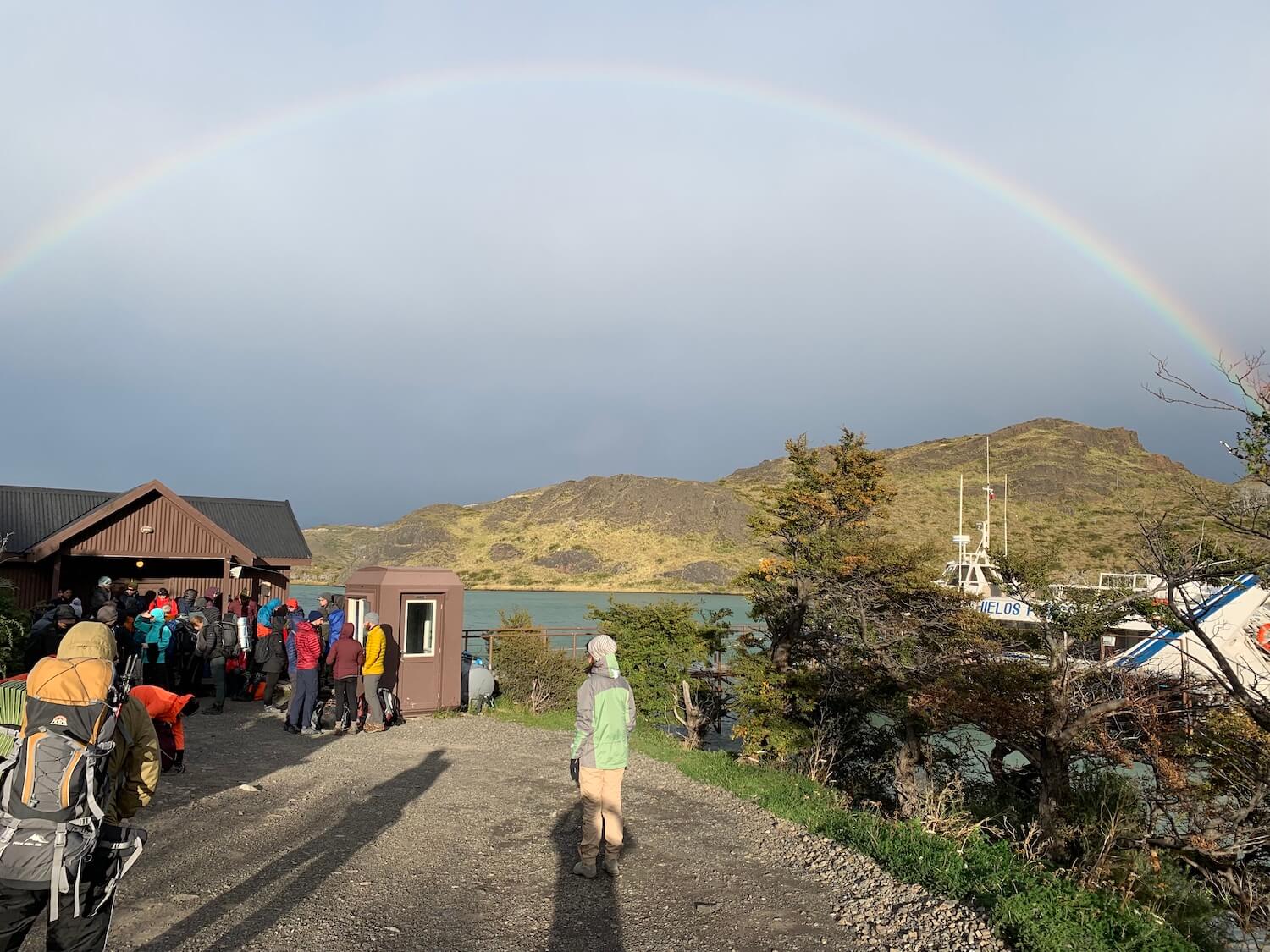 It's fairly easy to follow the trek (and perhaps not so easy to actually hike it). There are signs everywhere, and in most cases you need it, the road is clearly marked with paint.
On day 1, our destination was the camping Lago Grey. The first day of hiking was probably the most difficult one. It was so windy, I thought I would just fall off the cliff.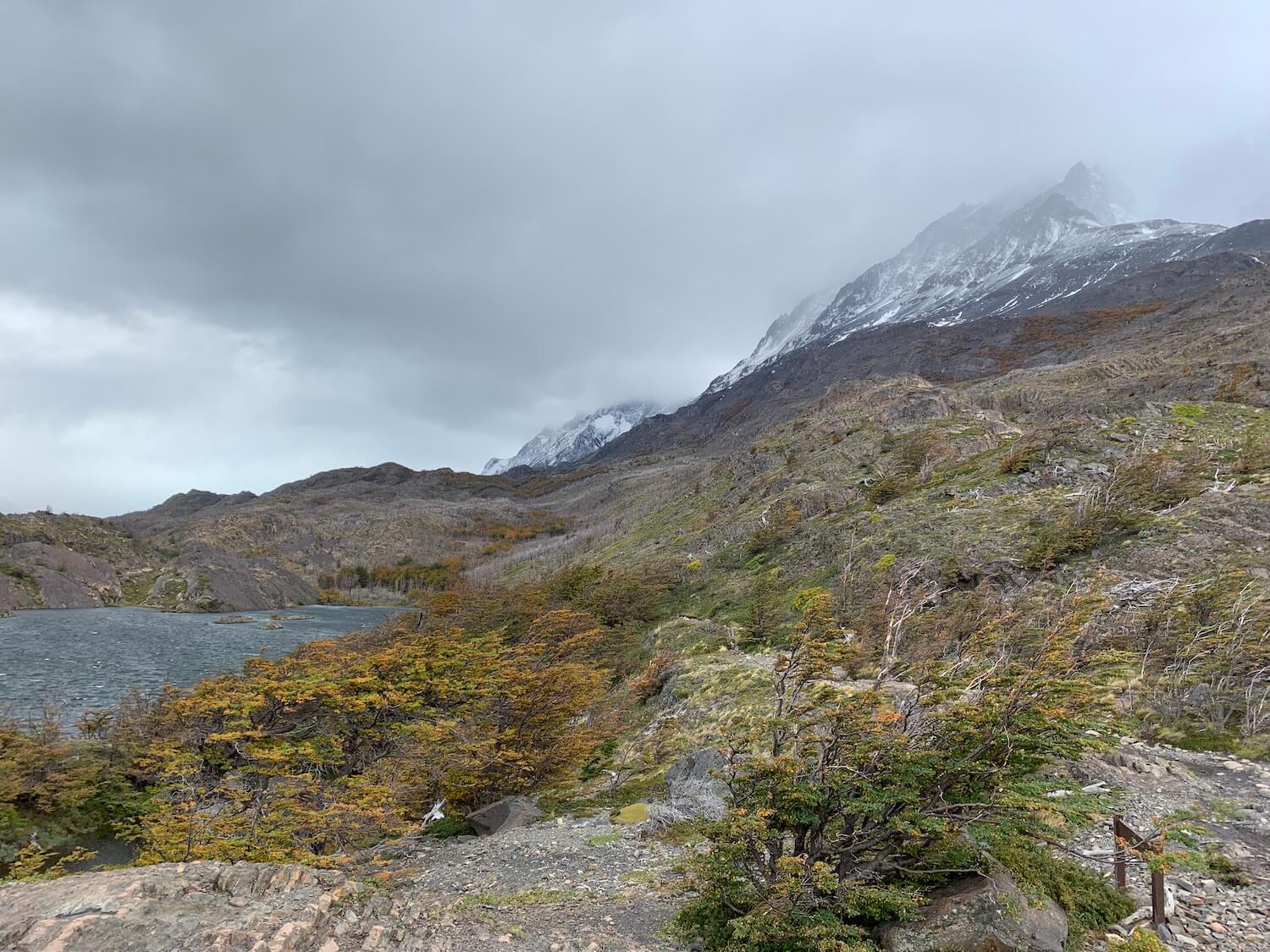 From the Lago Gray camping, walk a little farther to reach the viewing point Mirador Gray with some stunning views of the glacier.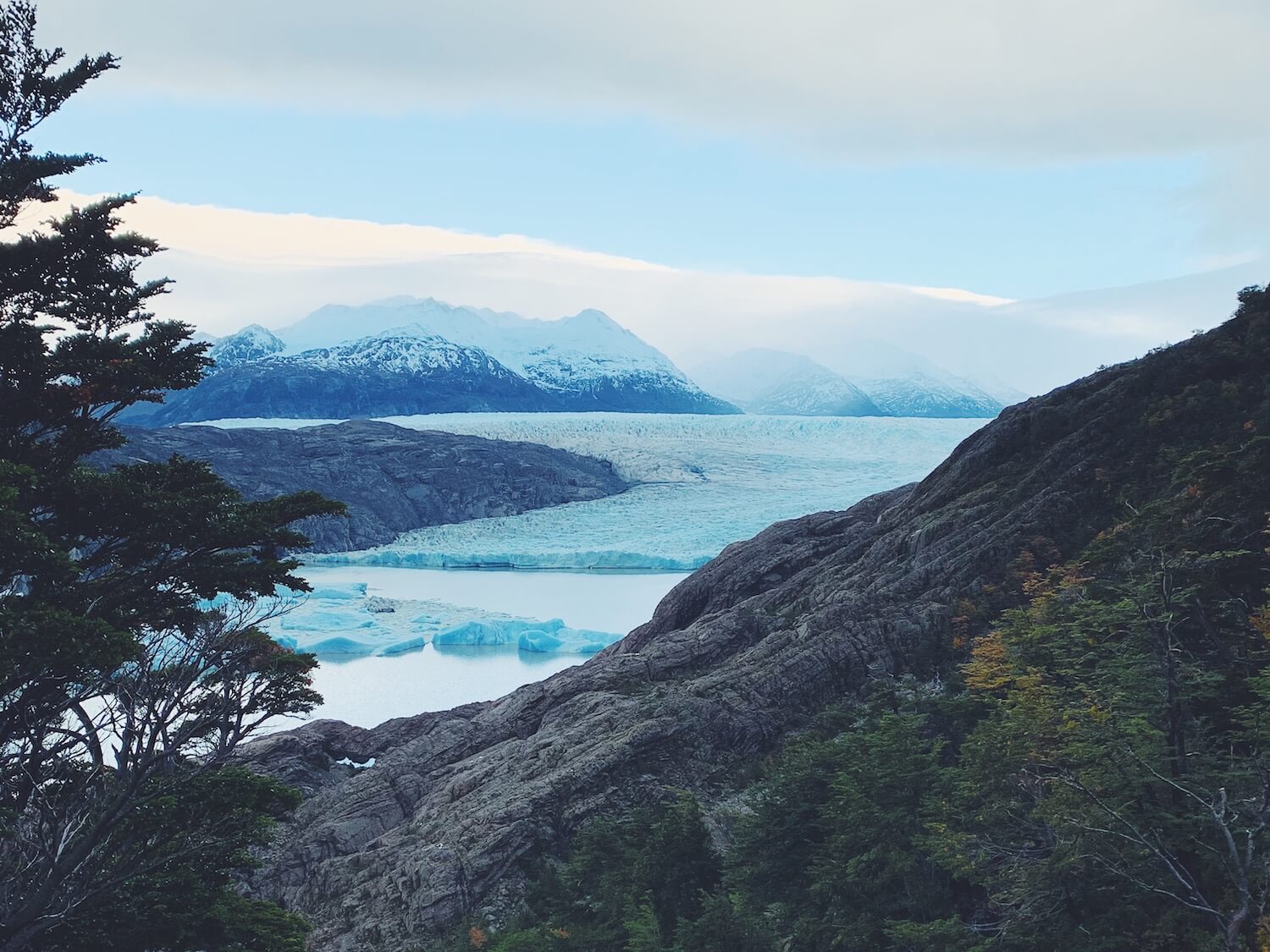 On a side note: in the camping sites located on the W trek, it's possible to stay in huts so you won't even have to bring your own tent. However, the prices are exorbitant, reaching $90 USD for a bed in the dorm. It's a weird feeling, really: you hike all the up the mountain, sweating and cursing, with all your gear in the 20kg-heavy backpack.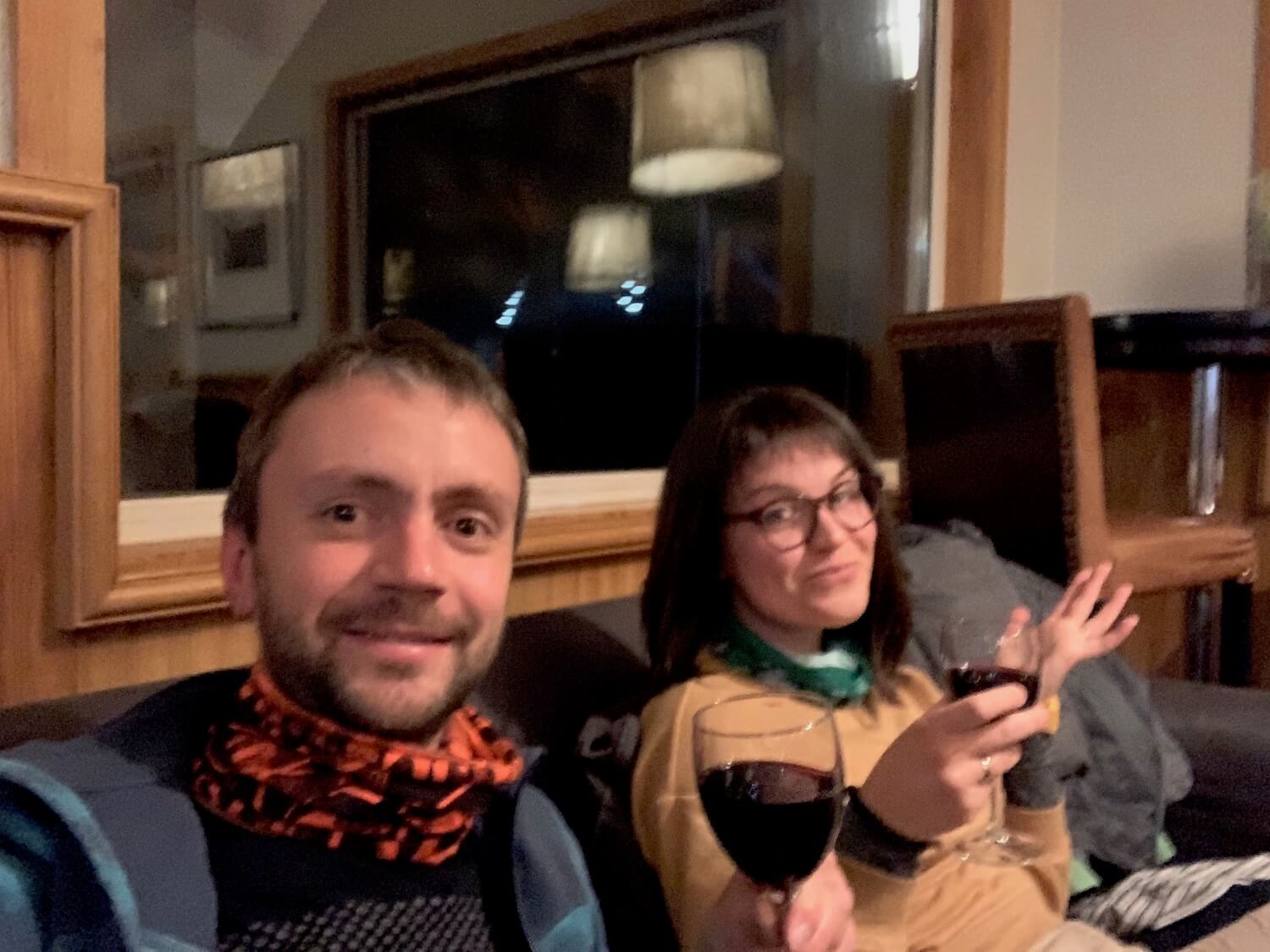 And in the evening, you end up in what resembles a Swiss chalet, with fancy dinner being served on real plates and red wine in glasses. Go figure.
Day 2. Getting back to Paine Grande
On the second day, we spent the morning getting to Mirador Gray and enjoying the views of the glacier. After that, we went back to the camping Paine Grande and stayed there for the night.
Every camping that we stayed at had a cooking area and hot showers. The showers normally start functioning later in the afternoon, around 4-5pm, when the majority of the hikers get to the camping.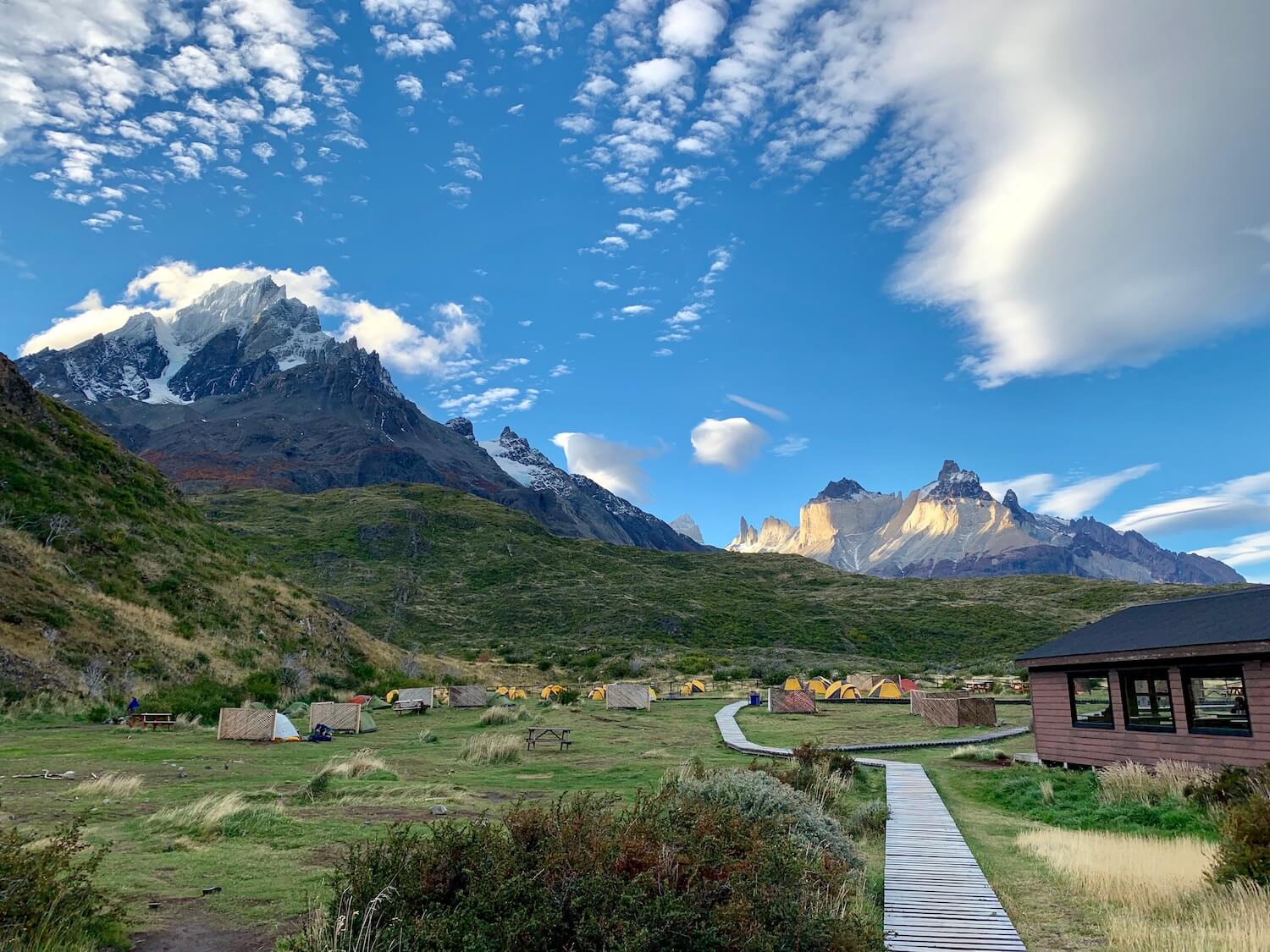 Camping Paine Grande
Paine Grande is a super windy camping site. In the picture, you can notice the wind shields next to the tents. Putting them there was very thoughtful of the camping administration, as otherwise, we would have spent the night trying to save the tent from getting blown away, with us on board.
Paine Grande stands on the crossroad for hikers getting off the boat (the one that we took) and going every direction, from east to west. It's a bigger camp, with all the facilities one might need, including kitchen, showers, and a bar.
Day 3. Heading to Camping Frances
The third day of camping was one of the longest. We walked 23 km and climbed 344 floors. First, we reached camping Italiano that was closed "due to poor sanitary conditions". Having visited the toilet on site, I could totally understand why…
However, we could still leave our backpacks there and eat lunch before heading to Mirador Britanico.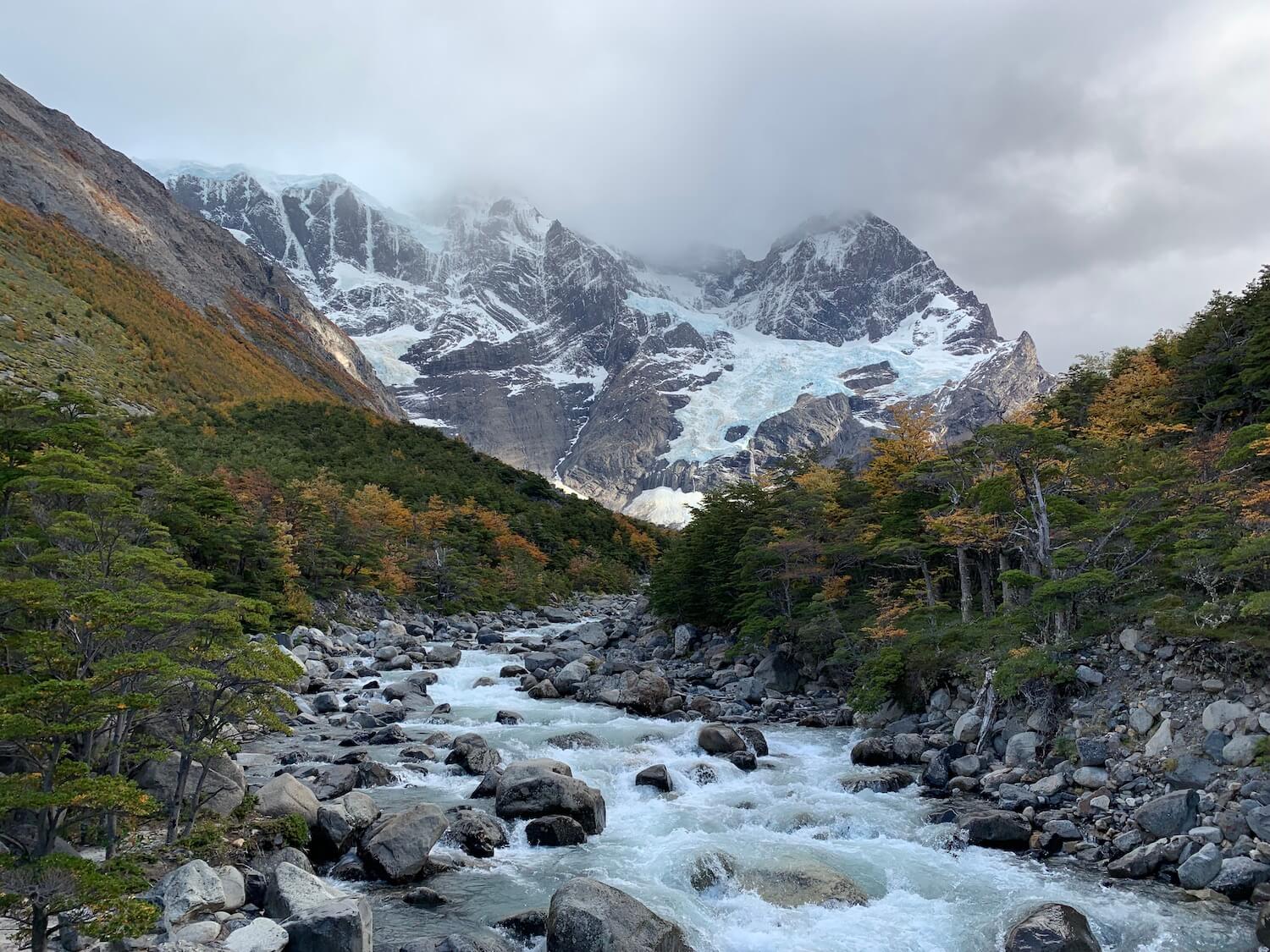 On our way to Mirador Britanico
Disclaimer: we didn't reach the viewpoint we were hoping. I got too tired from all the walking and climbing, and from camping Italiano, it would be another couple of kilometers to camping Frances, where we were planning to spend the night. So instead, we just did the viewpoint Valle del Frances, which was still totally worth the experience.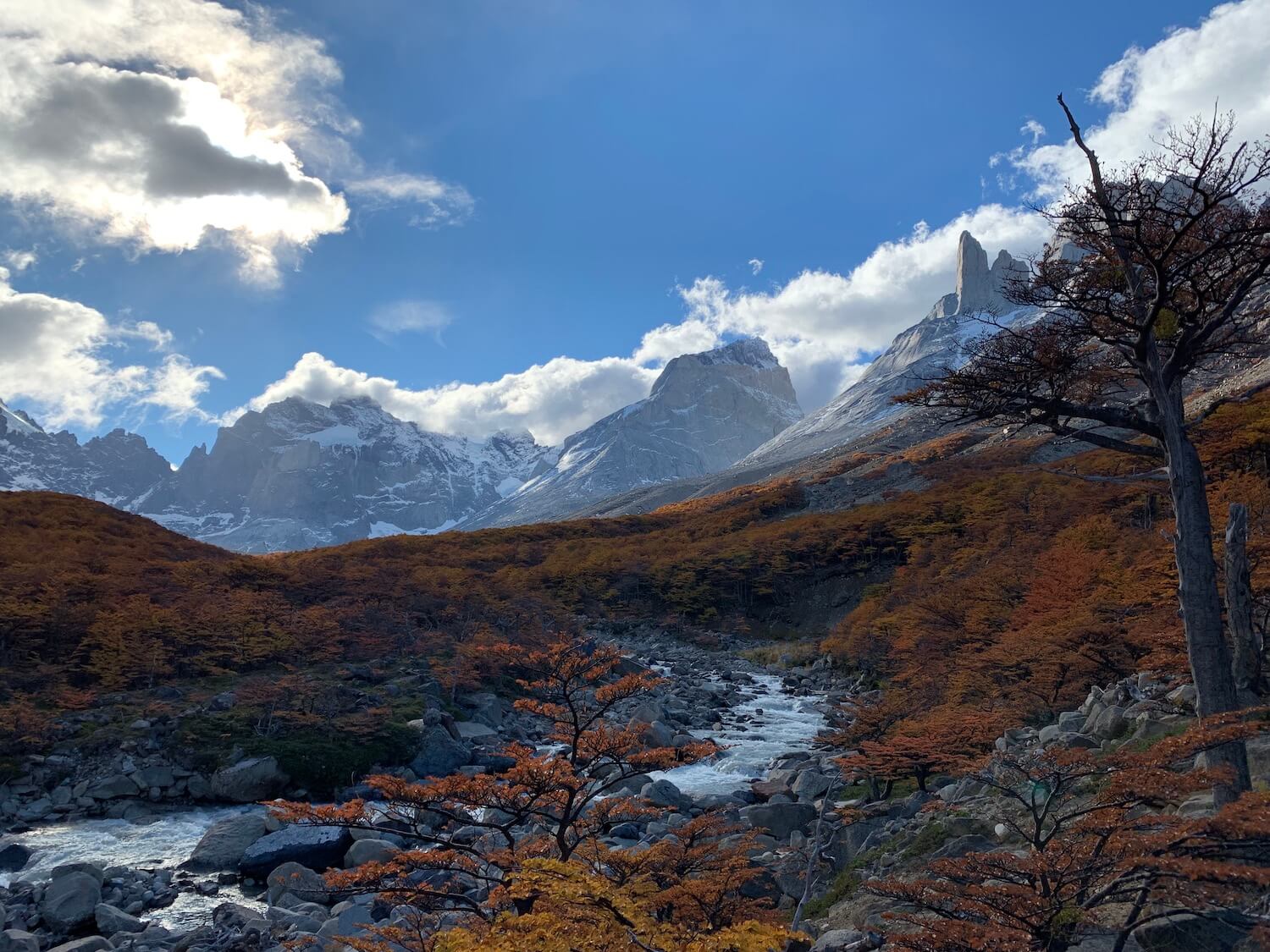 Mirador Valle del Frances
The camping site Frances is located in the woods. There was no steady surface to put the tents, so they came up with a brilliant idea to build wooden platforms instead.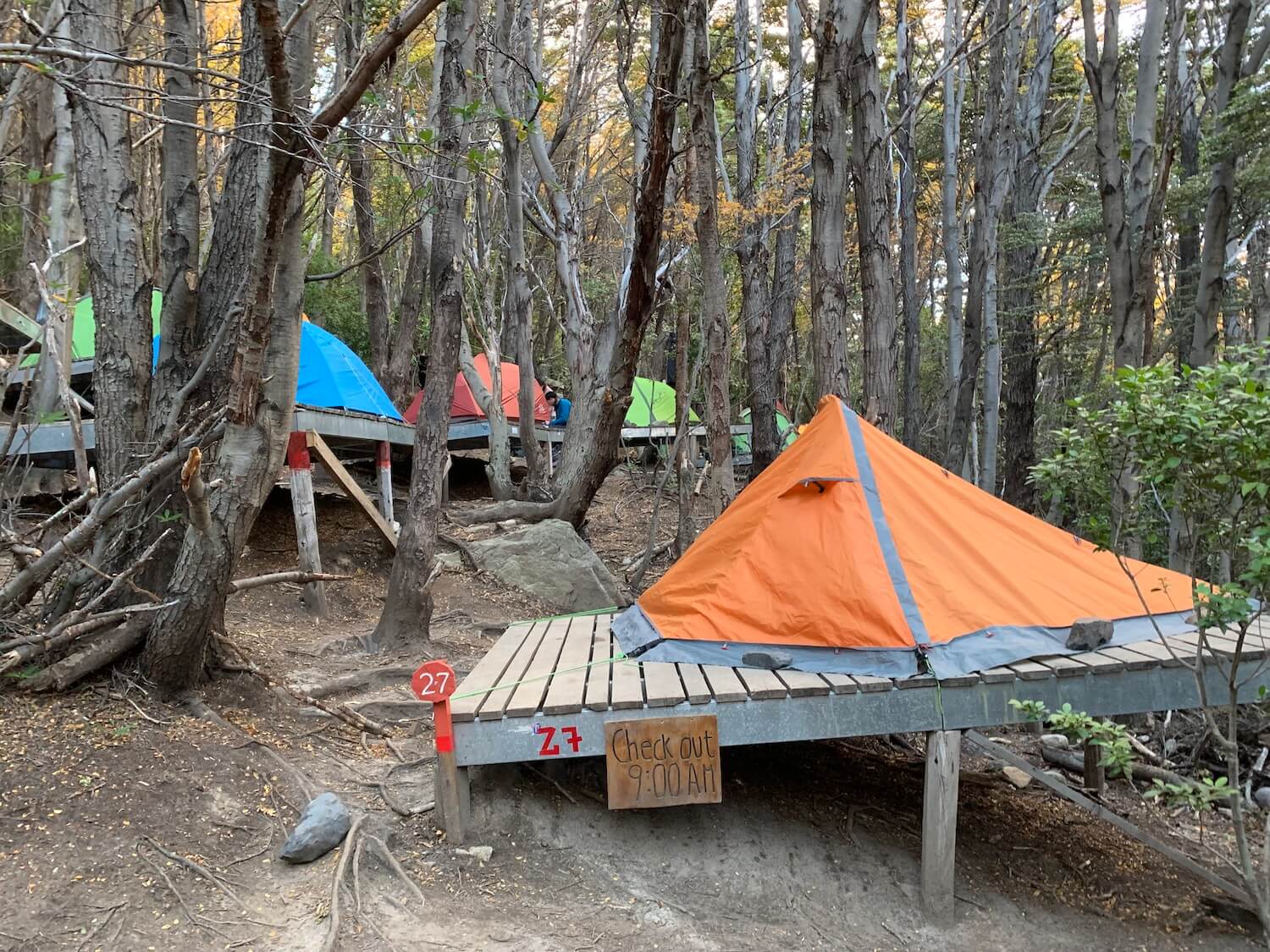 Mirador Frances
It's fascinating how they manage to maintain the camping site so deeply hidden in the woods. In addition to the common bar and dorms, it also had the best showers in the whole town Torres del Paine.
Day 4. On our way to Camping Chileno
On day 4, we covered about 16 km, and that was a rather difficult hike. Basically, we just walked, reaching our destination – camp Chileno – in the afternoon. Note that there is no way to cook food between camping Frances and Chileno. We brought some hiking superfood with us and prepared it with hot water beforehand, in Frances. Then simply ate it during one of the pit stops.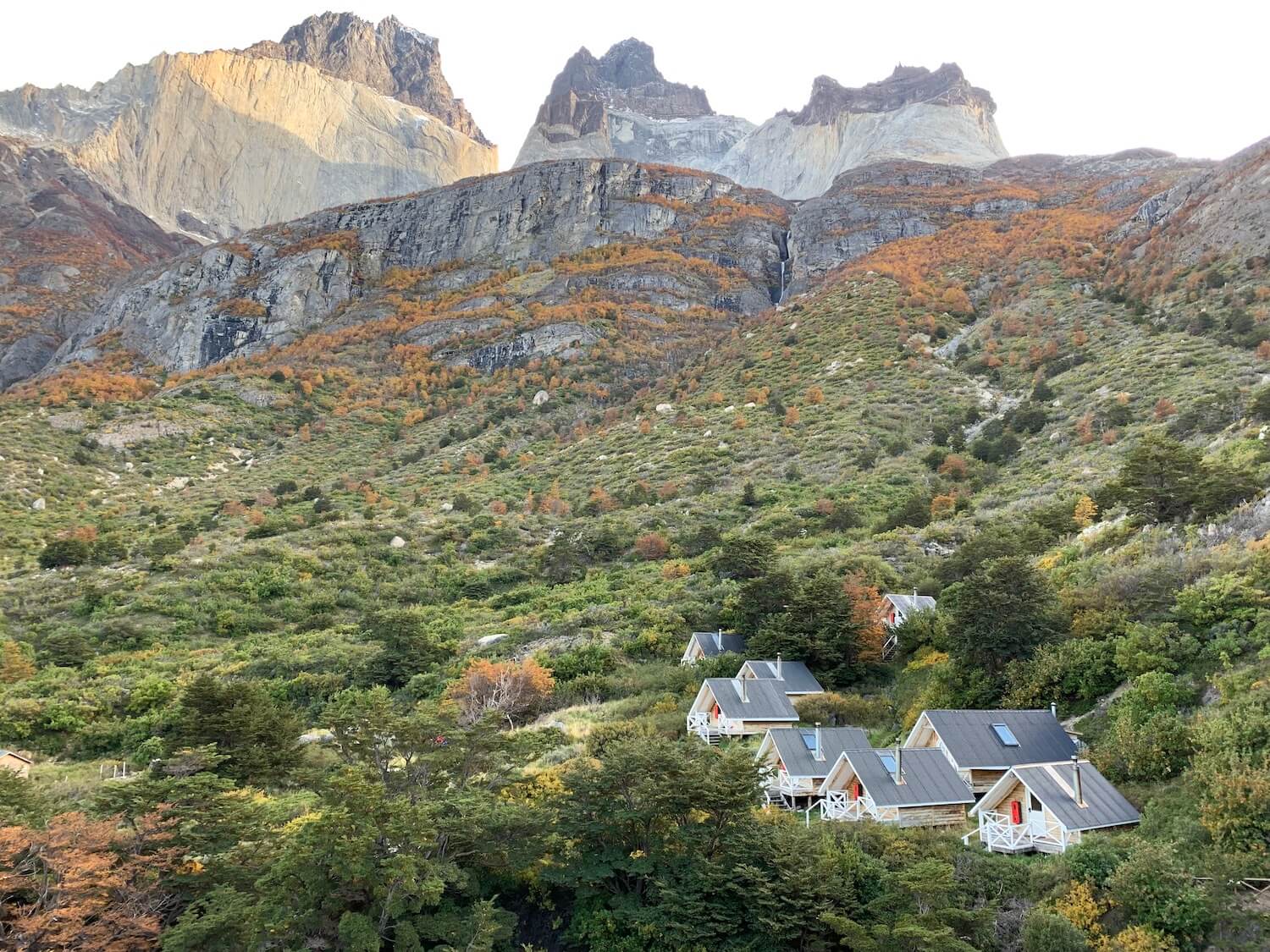 On our way from Frances to Chileno
Camping Chileno is probably one of the most popular ones in Torres del Paine. Since it's located on the way to the main attraction of the national park, all the day tour visitors pass it, too. It's not allowed to cook on this camping site. However, they do offer hot water, so it's still possible to prepare some instant food.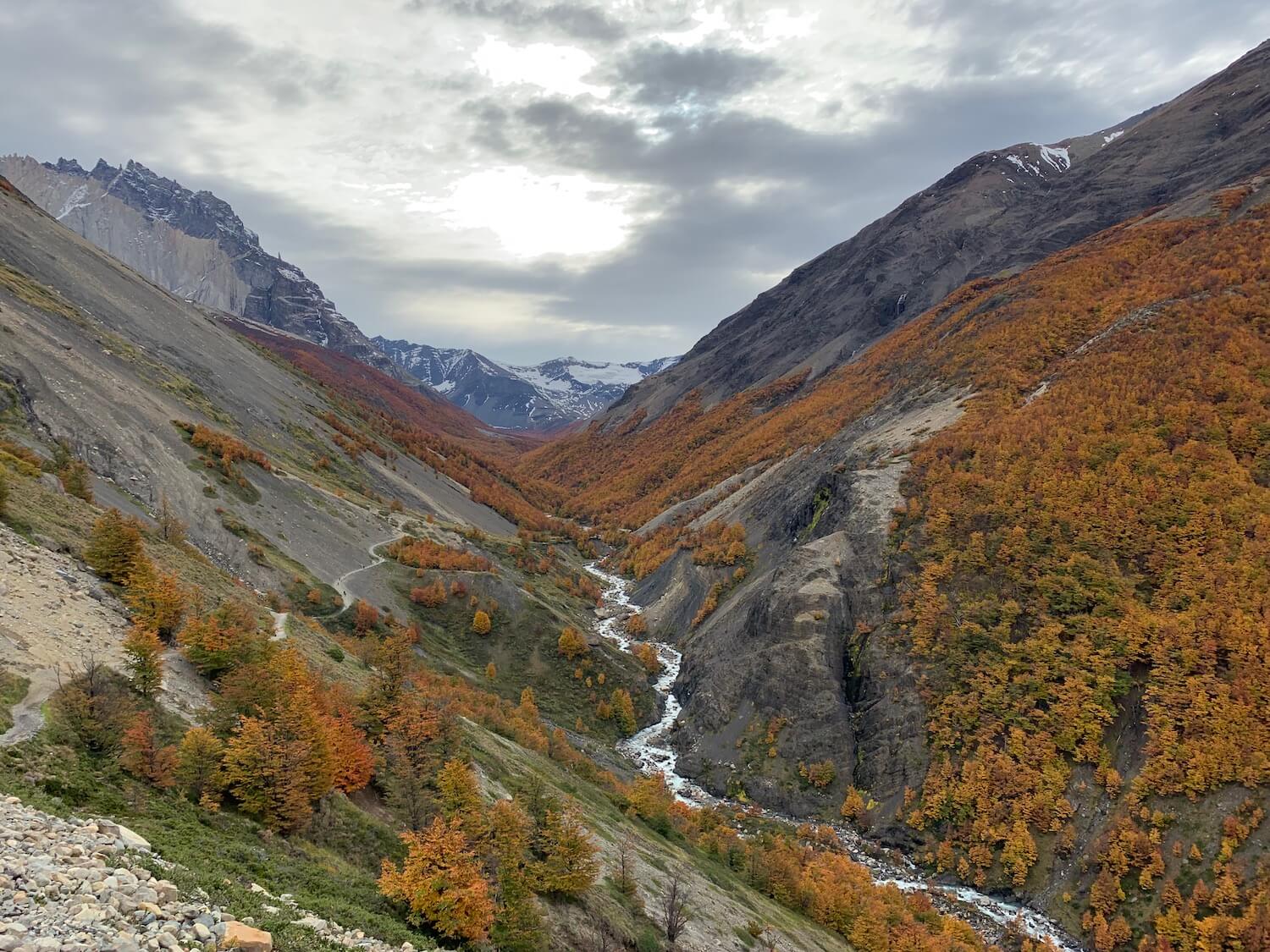 The valley close to camping Chileno
Day 5. Visiting Torres del Paine
The last day of W trek, we had to wake up early, at around 5am, to be able to see Torres del Paine and catch the 2pm bus back to Puerto Natales.
The ascent to the towers is arduous, to say the least. During 2 hours of hiking, the elevation level is some 500 meters. At times, it felt like climbing a ladder, really.
And when you get to the top, it's going to be freaking cold, too. So it was smart of Dima to take a sleeping bag with us to the top, so that we could cover ourselves while waiting for the sunrise. Which we didn't quite see that well because of the clouds.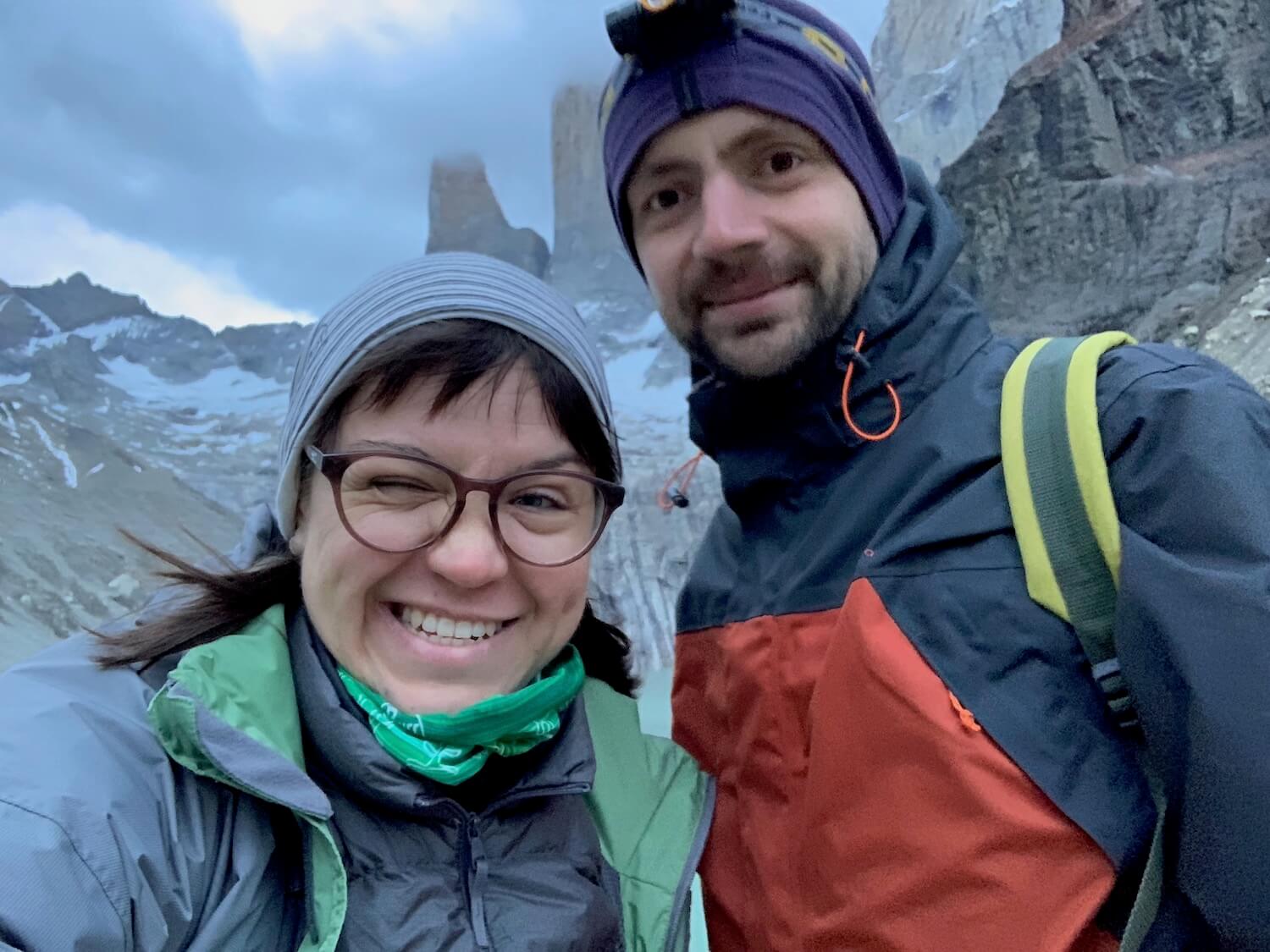 Notice my red nose from all the cold
No doubt, Torres del Paine is a stunning place that feels like it doesn't belong to this planet. Nevertheless, I wouldn't recommend only coming to the national park for just one day. The whole park is so totally worth visiting; you'll be missing out if you just saw the towers. Besides, getting all the way up to the towers and then back down to the bus in one day is quite a hike (some 16km with serious elevation).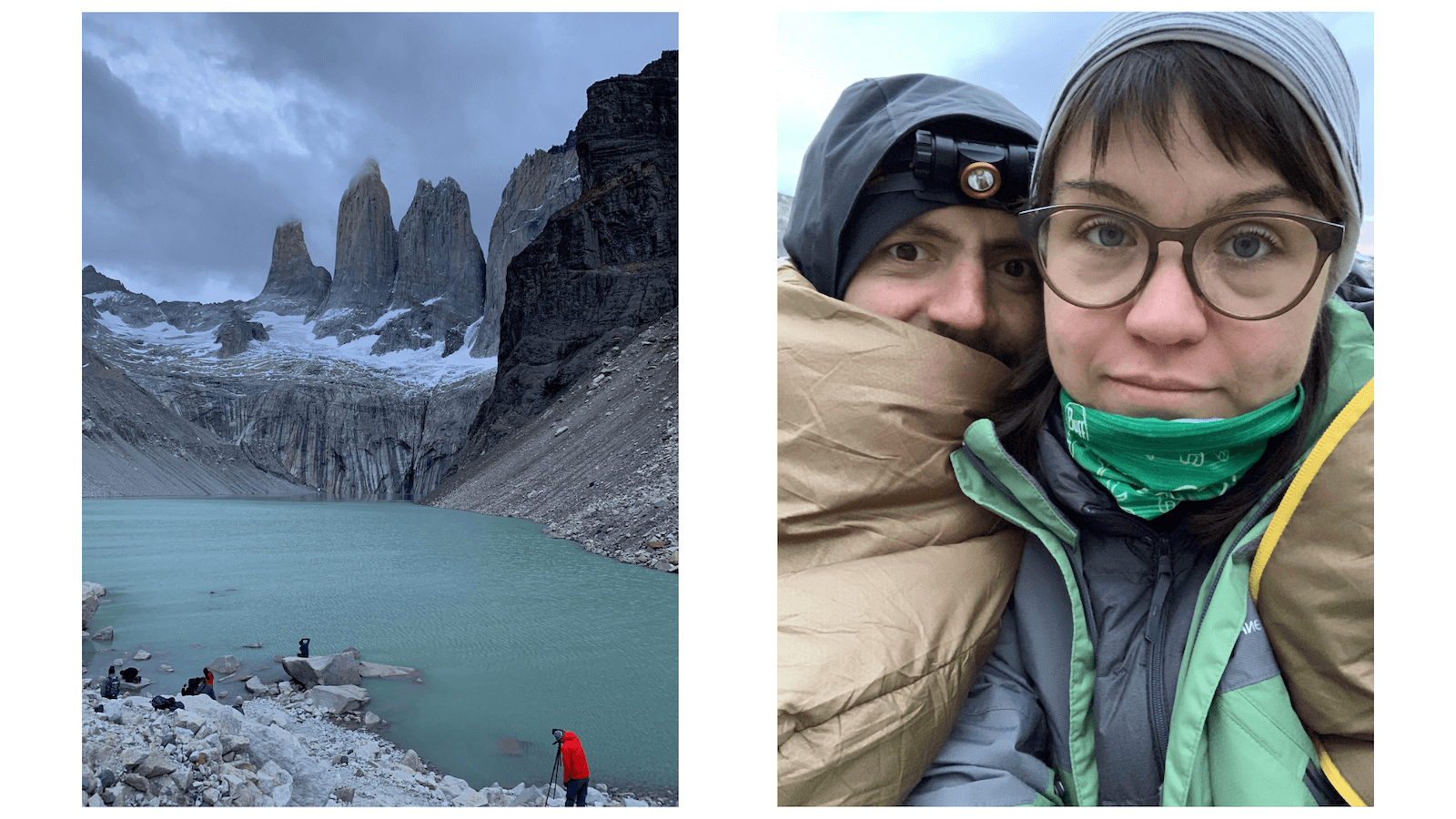 Cherry on top: Torres del Paine themselves. I am beyond excited
Some say the W trek is fairly easy, accessible even to people wearing Crocs. Don't believe these kinds of posts. W trek is rigorous and challenging but not undoable. During 5 days of hiking, we walked some 100 km (62 mi). Prepare well, and you'll enjoy Chilean Patagonia to the fullest.
Helpful tips for W trek
1. Book the camping sites in advance, especially during the high season. There's only a limited number of places where you can put your tent. So I'd definitely recommend checking the camping site availability beforehand.
2. Bring warm clothes. It might sound obvious but the weather changes oh so quickly in Patagonia. We were lucky to catch the nicest weather one could hope for. However, the nights were chilly (just wait for it… chilly in Chile, hah!), and I ended up putting on all the clothes I had with me. Dress in layers, too!
3. Have some instant food with you. Even if you are a fan of cooking fancy when hiking (I saw a guy making avocado toasts for breakfast!), sometimes it's just necessary (and much simpler) to have a package of instant noodles with you. There are some good (albeit somewhat pricey) foods that you can buy in any tourist store, too.
4. Consider going in the lower season. Rumor has it, during the high summer season, there are so many people in Torres del Paine, you literally end up walking in line. We went in mid-April, which is considered the low season. If you are lucky with the weather, you'll enjoy jaw-dropping Patagonian fall views AND avoid the crowds.
Punta Arenas and the Strait of Magellan
Punta Arenas is not that famous among those visiting Patagonia. There is, however, one interesting spot close to the city – Fort Bulnes with fantastic views of the Strait of Magellan.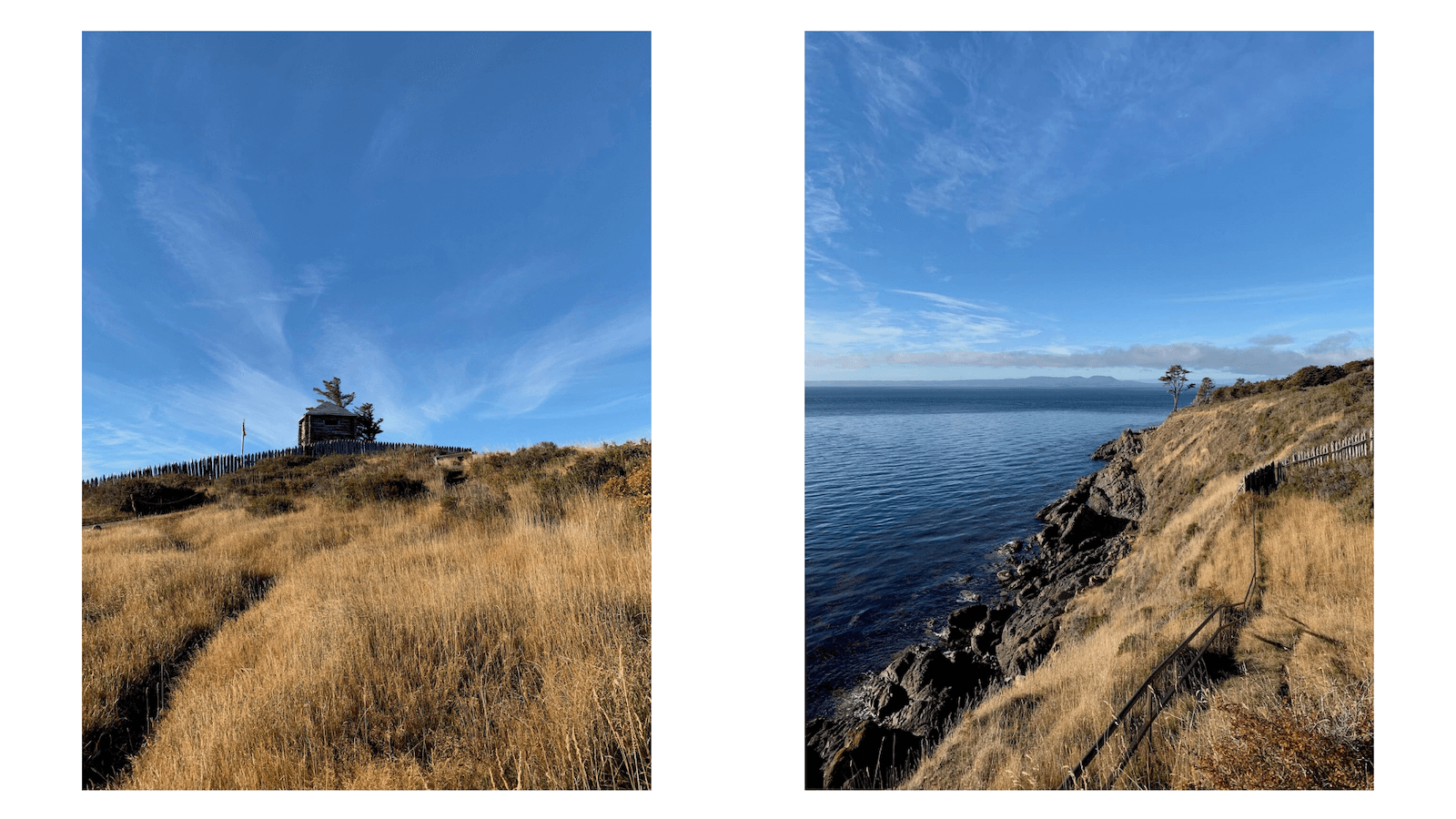 If you, for some reason, end up spending an extra day in Punta Arenas, consider making a day trip to see this end of the world. Day trips available with numerous travel companies in the city. We booked ours right on the spot (praise be to my Spanish teacher!)
Argentina: El Calafate and Glacier Perito Moreno
The majority of tourists who come all the way down to Patagonia normally try to visit as many sights there as possible. Which makes total sense: if you fly to the other side of the world, you definitely want to see all of it.
We were no exception. After finishing the W trek, we headed back to Puerto Natales, only to leave for El Calafate, Argentina, the next day.
The reason for us to go to Argentina in the first place was seeing the glacier Perito Moreno. But when we were booking the tour to the glacier, it turned out to be full, and we had to spend an extra day in El Calafate, waiting for the next available tour.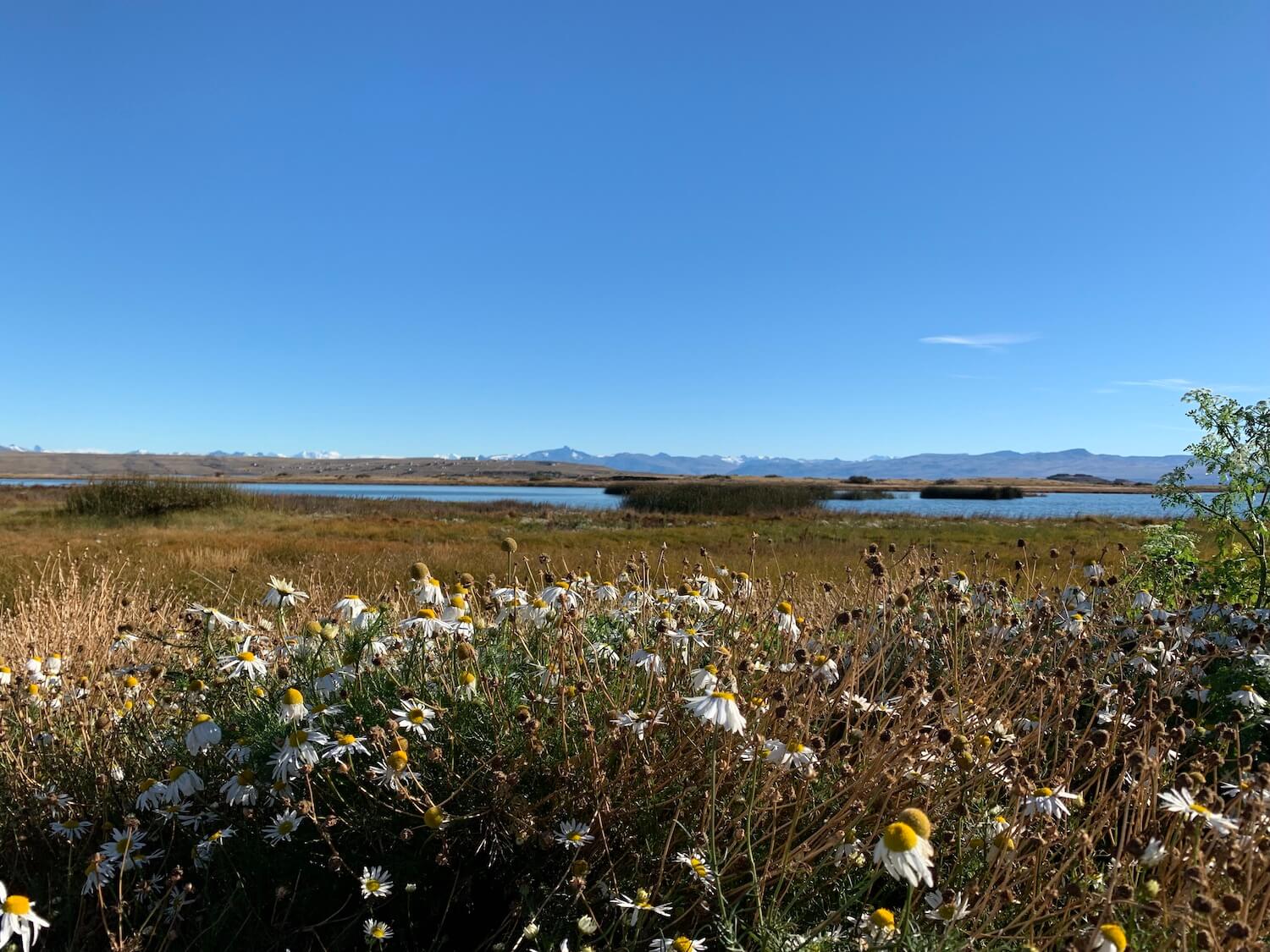 As exciting as it gets in El Calafate
To get to Argentina, you will (obviously) need to cross the state border. Check twice what kind of document or visa you need to have in order to enter Argentina! On our bus, there was a guys from Korea (I reckon) who didn't have his visa ready. He was eventually let in to Argentina but it took over an hour of negotiations.
El Calafate, known also as "the Land of Glaciers" isn't full of attractions, really, except for — you guessed it — glaciers around the town. Most people use El Calafate as a transit center between Torres del Paine and the glaciers. There is one main street full of (expensive) restaurants and tourist shops to buy camping gear.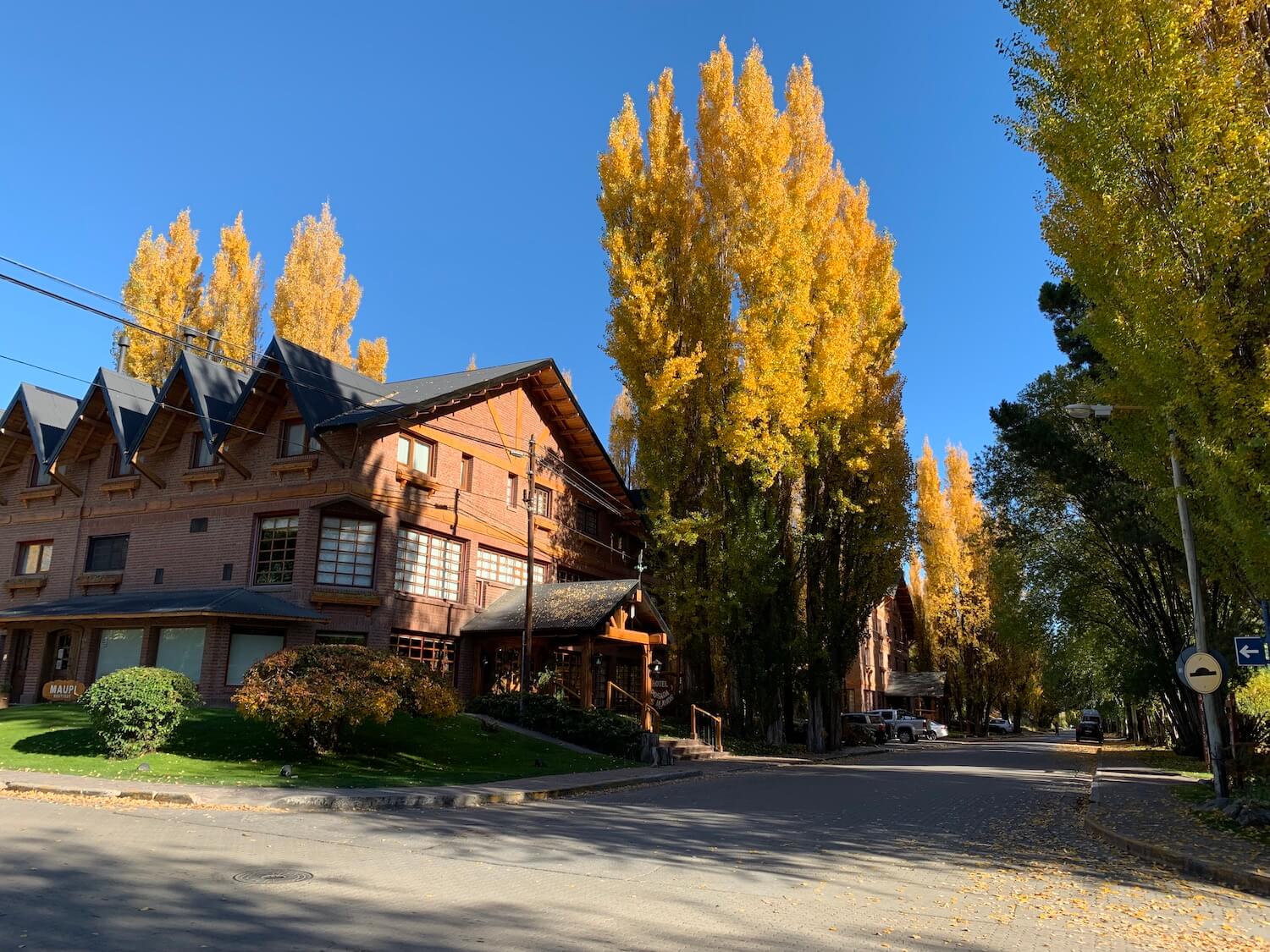 There is also a park where you can watch the local birds (!) The entrance was around $15 USD, and it was totally skippable. Oh well.
Glacier Perito Moreno
Our main reason to come to Argentina was visiting the glacier Perito Moreno. It is part of the massive glacier field that stretches 350 km from north to south and has the size of Slovenia.
The humid air from the Pacific gets to the high Andes, cooling off and falling down as ice. Year after year, it compresses and turns into blue ice. Then, under its own weight, it's pushed down and sideways, reaching the numerous lakes in the region.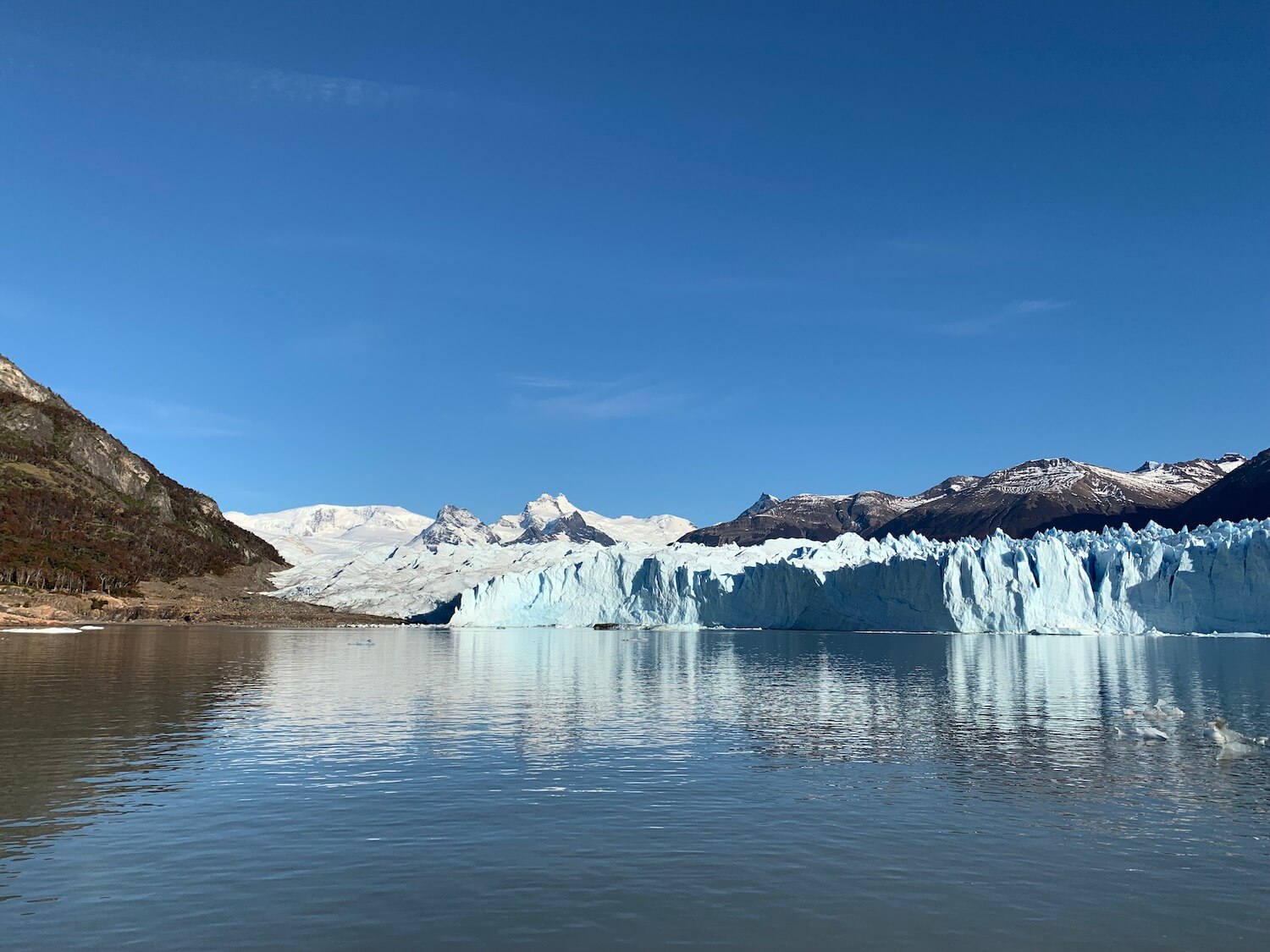 Tourist companies in El Calafate offer short trips to the glacier. With some of them (we went with Hielo & Aventura), you can literally walk on the glacier. A terrific experience; highly recommend.
They put special crampons on the trekking boots so that you can actually walk on ice.
Turns out there is life of its own on the glacier. In the summertime, there are rivers flowing. Melting ice forms caves of queer structure and form. And the blue ice is extraterrestrial.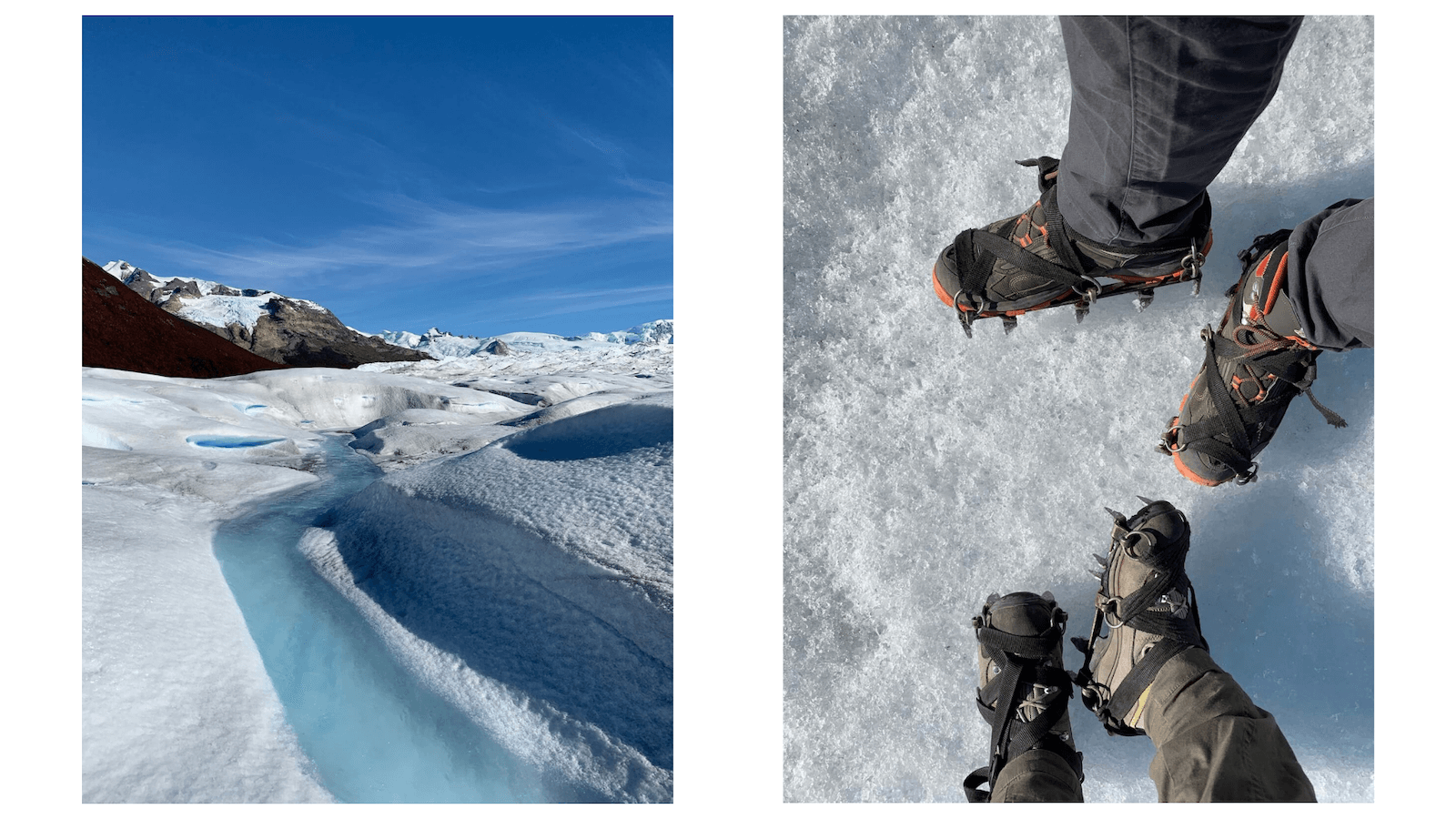 The whole tour took several hours as we headed deeper into the glacier desert. Despite our looks, it actually got pretty warm at the glacier. But then again, we were licky with the weather: the guides told us it was a rather unusual day at Perito Moreno.
Walking the glacier was probably one of the most exciting travel experiences I've had. It feels so weird just to be there, standing on that enormous chunk of ice and realizing there's some 300 meters more below.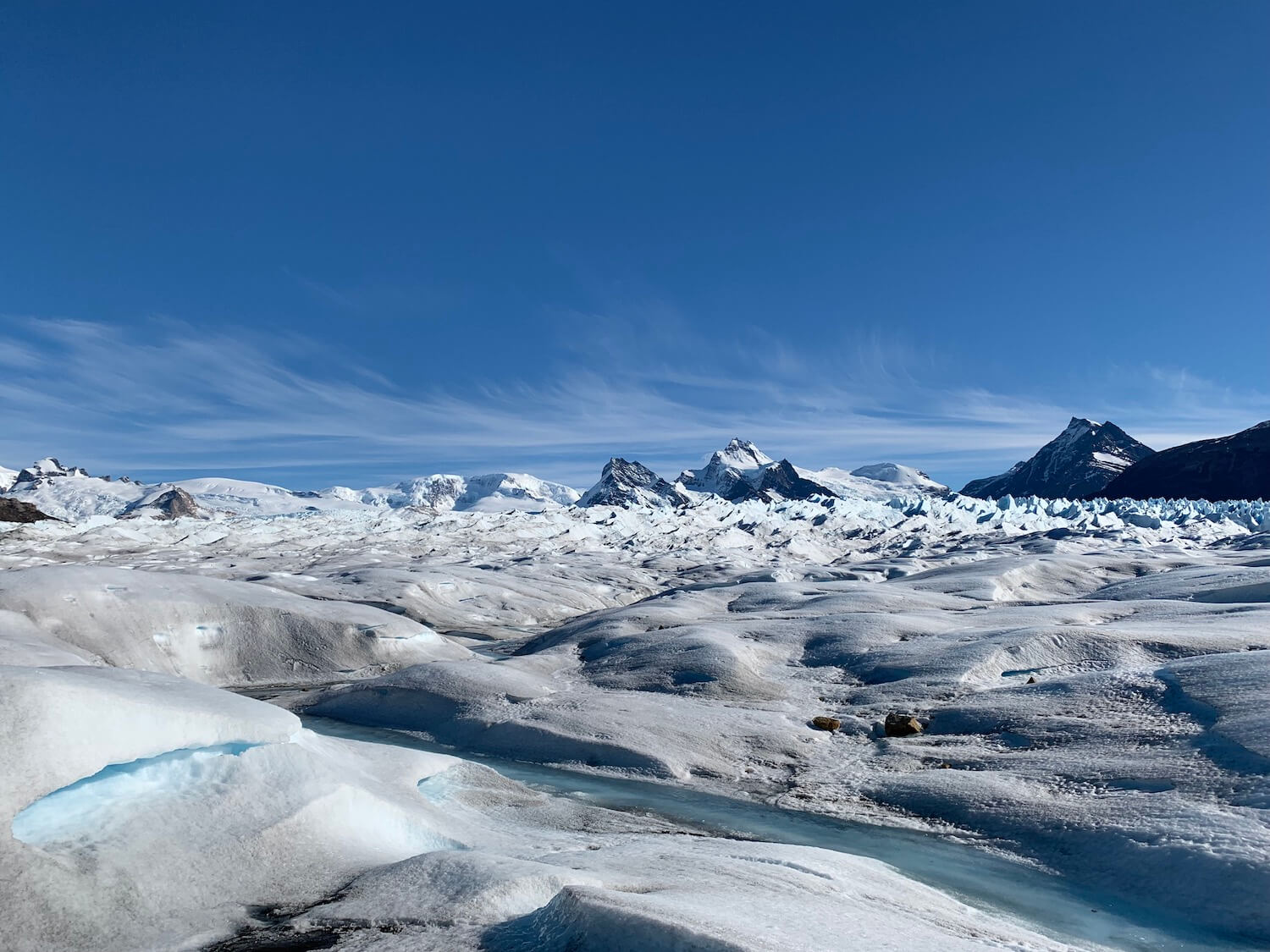 The end of it
Chile is incredible. There's still so much more to explore, from the Atacama desert in the north to Easter Island all the way west in the Pacific. It's safe, fun, and just a wee bit expensive but totally worth the travel. I am only looking forward to spending more time there!