I have never been much of a France lover. Having only briefly visited Paris a couple of times and Chamonix for a ski vacation, I was under the impression that all the French are snobbish, pompous, and arrogant. Besides, they pretend not to speak any English at all.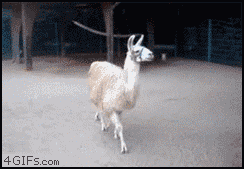 Then our Schengen visa expired and we had to obtain a new one. Rumor had it, the French were generously giving away 5-year visas. And so we braced ourselves and decided to go to France for our next vacation. What a fun reason to visit a country, eh?
The plan
Since we had already been to Paris and didn't fall for it that much, we decided to give France another chance and explore a whole new region. I wanted to go to Normandy, to see the cliffs and the castles and all that.
But then it occurred to us that going to the Atlantic coast in October might not be the smartest idea. It's pretty harsh in warmer weather, let alone in late fall.
And so we chose to go to Grenoble instead, just because we liked the name😐 Then it turned out the whole region around it looks nice, what with the Alps and all. So it was settled: we were going to Auvergne-Rhone-Alpes, the region I didn't even know existed and the name of which I find impossible to pronounce.
As a side note, I was so terrified by the idea of having to communicate with the French, I even took a couple of French lessons on Duolingo. Didn't really get me anywhere. Have any of you had a good experience with self-study language apps?
Lyon and around
When we started doing our research, it turned out there are direct flights from Moscow to Lyon. The rest of the plan shaped around it. We knew we wanted to go to Grenoble (because the name sounds funny in Russian) but that was about it.
It was probably one of the least organized trips we had ever been on. We only bought the all-time-favorite Lonely Planet travel guide when we arrived in Lyon. Thanks to it, we figured what we were actually going to do in the country for the rest of our 8-day vacation.
If you, like me, don't know much about Lyon, it's the 3rd largest city in France. It is located on two rivers – Saone and Rhone. It has everything one could expect from a medieval European city: an old town, the remnants of a castle, and a cathedral on the hill.
Interesting things to see and do in Lyon
It is worth spending at least a couple of days in Lyon. Start by exploring Vieux Lyon (old Lyon), with its quaint narrow streets and cobbled sidewalks. Walk around, try some crepes (there's plenty being cooked right in the streets), and breathe in the medieval air.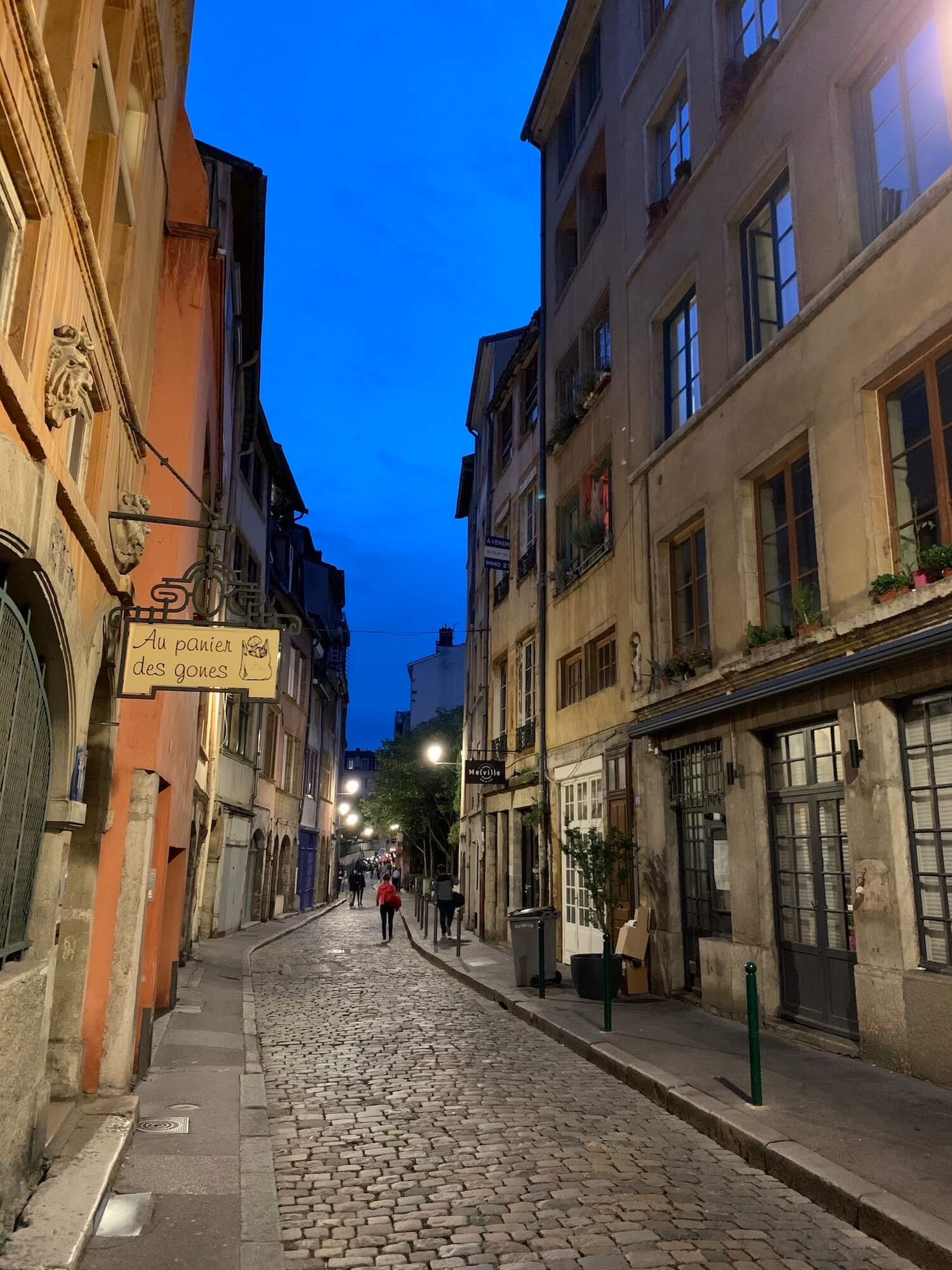 Bouchons
On your first day, make sure to stop by a bouchon. It's a type of a restaurant that serves traditional Lyonnaise cuisine. The one that we went to was very local: it only opened during the lunch hours and was completely closed on Monday and weekends. Bouchons are so popular, the place gets totally full during lunch.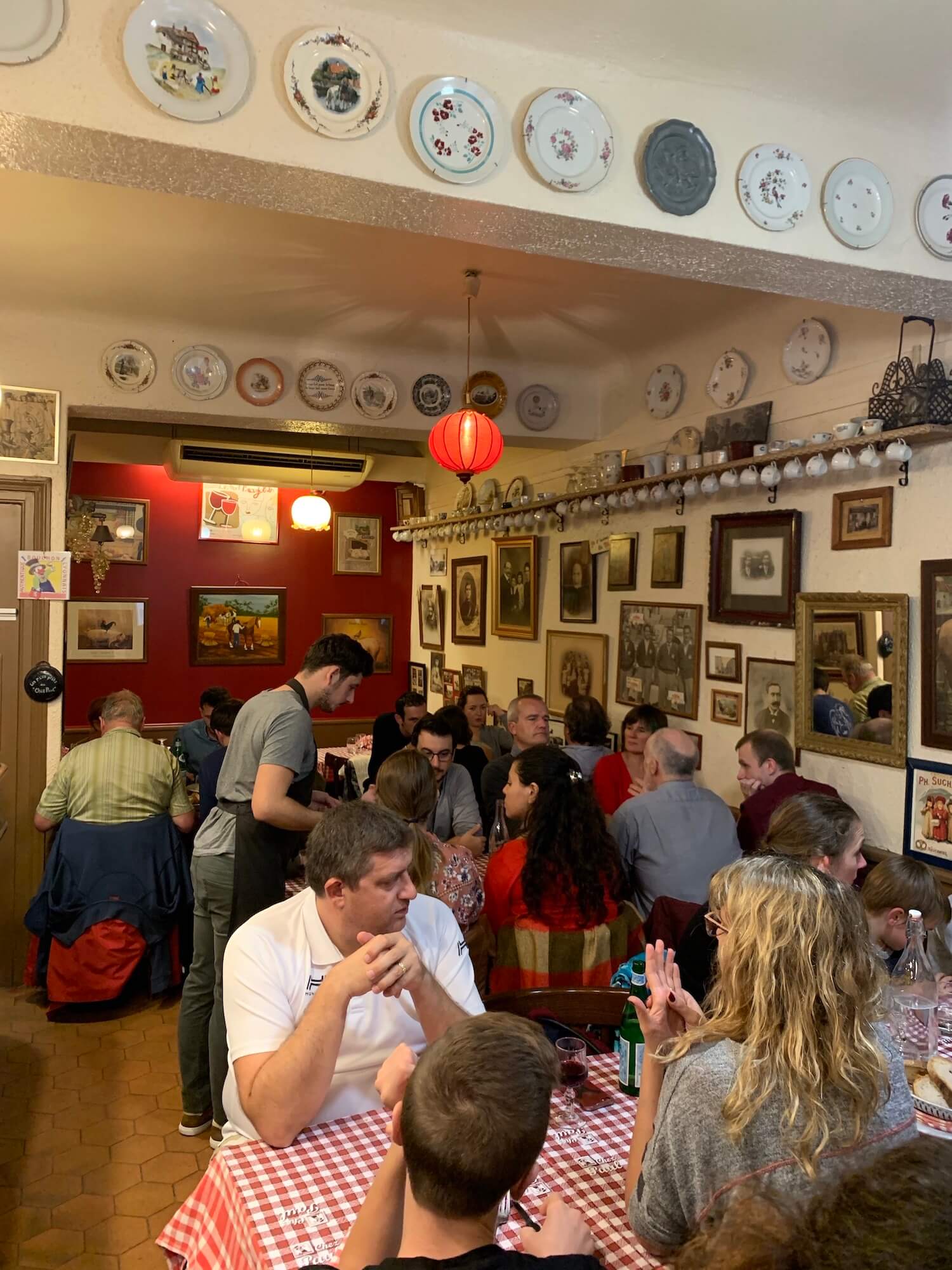 Another interesting thing about it is that you might be seated at one table next to a complete stranger. I found this to be rather nice, as this gives you a chance to meet and talk to new people.
Of course, it could be helpful if I could force out something more meaningful than just "bonjour" and "merci"🙄
The menu is also unconventional. You get to choose the main dish and dessert but the starters are all served from huge plates, to be shared between everyone at the table.
Traboules
A traboule, a type of passageway, is another thing typically Lyonnaise. They first appeared in the city around the 4th century. At that time, the inhabitants were lacking water and started moving closer to the shore of Saone. Traboules allowed them to get water to their homes faster.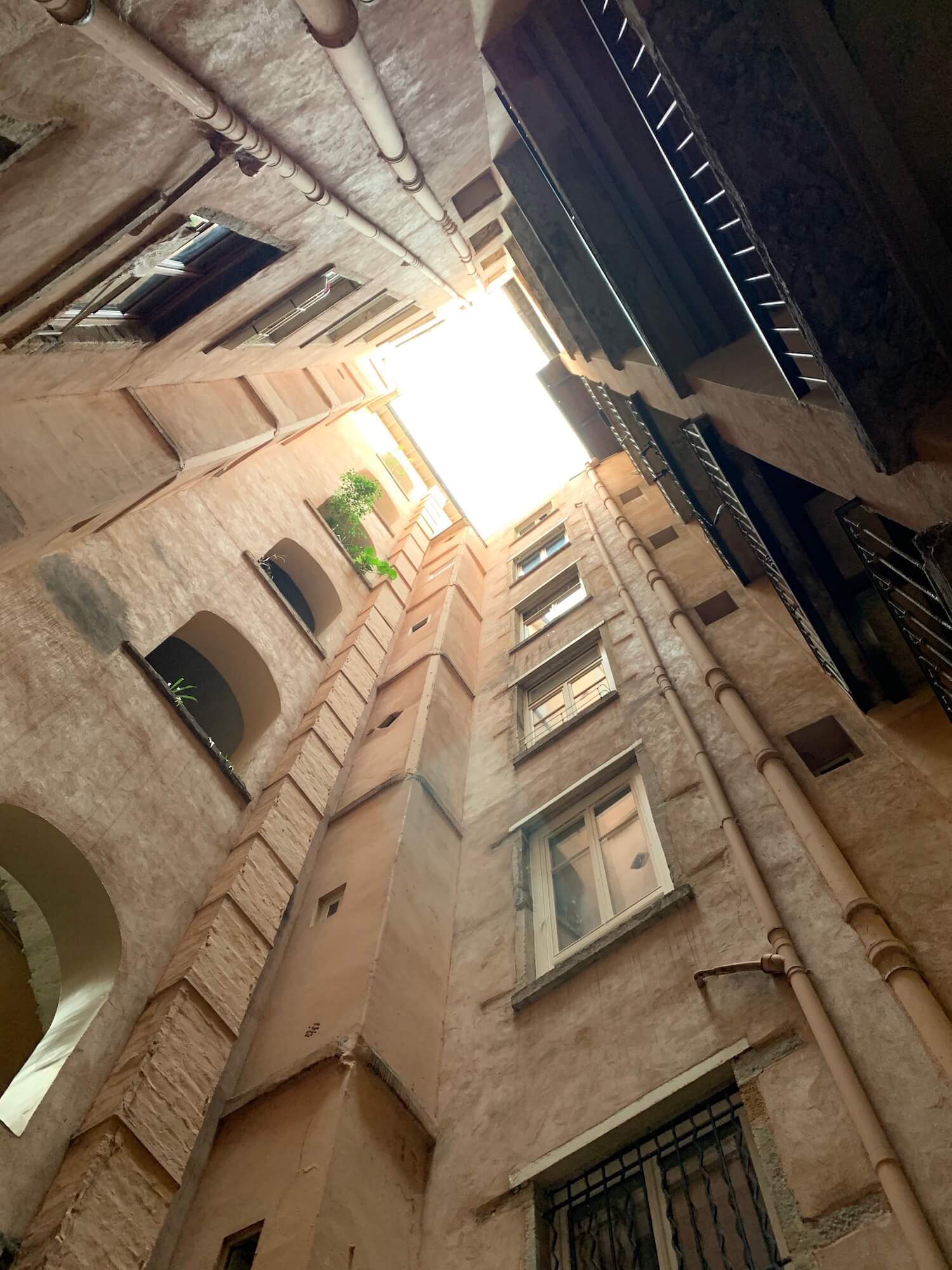 Now, traboules are a tourist attraction. There are around 40 of them open to the public. Many others are private property and lead directly to apartments.
Basilica of Notre-Dame de Fourvière
Another (tourist) attraction worth visiting in Lyon is Basilica of Notre-Dame de Fourviere. For starters, it is located on the hill pretty high above the city. If the weather is good, you will get a great view of the whole Lyon. The basilica itself is also quite spectactular.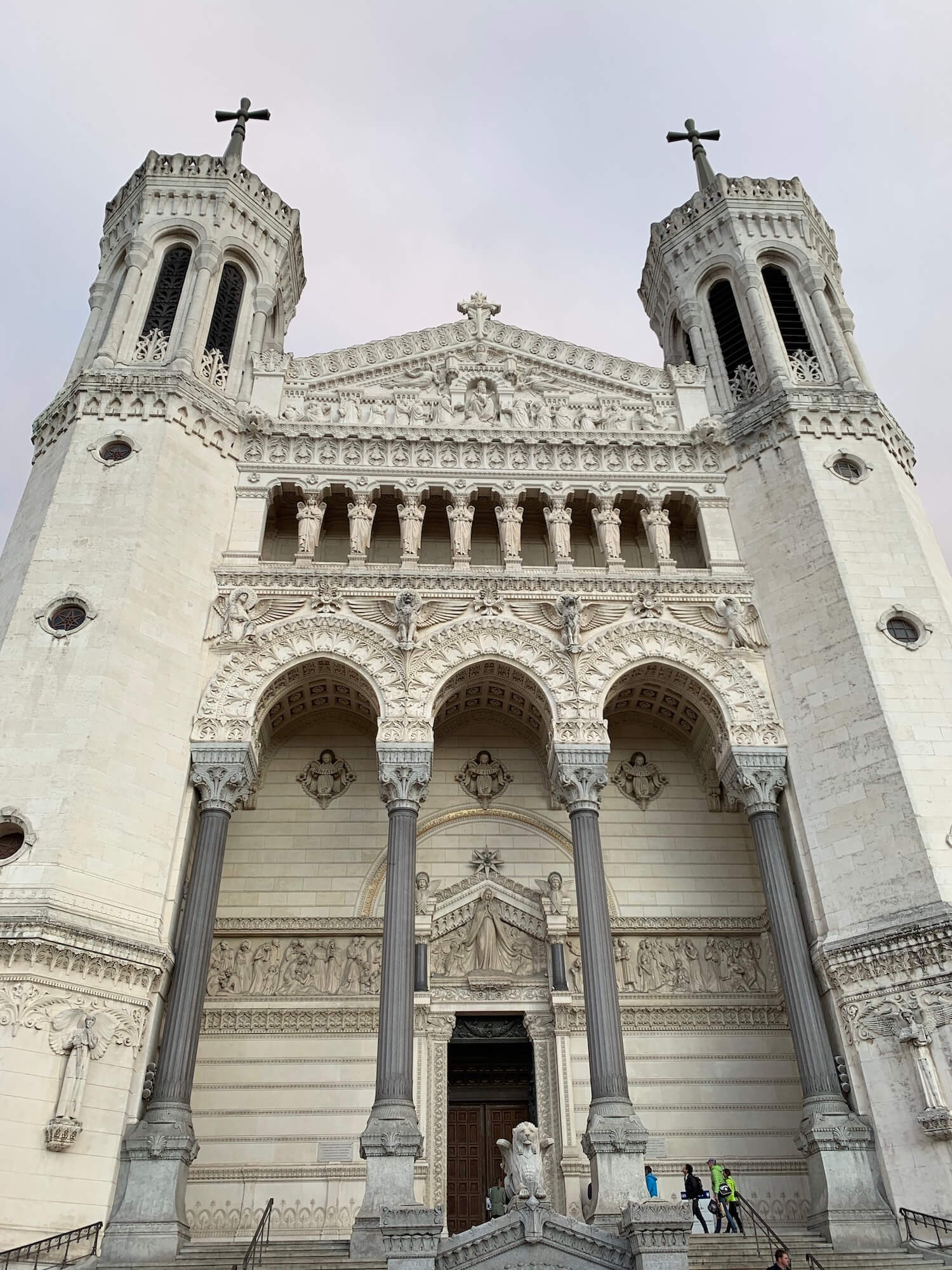 In general, Lyon is nice, laid-back, and hasteless. With some great sights and outstanding cuisine, it makes a superb place to visit.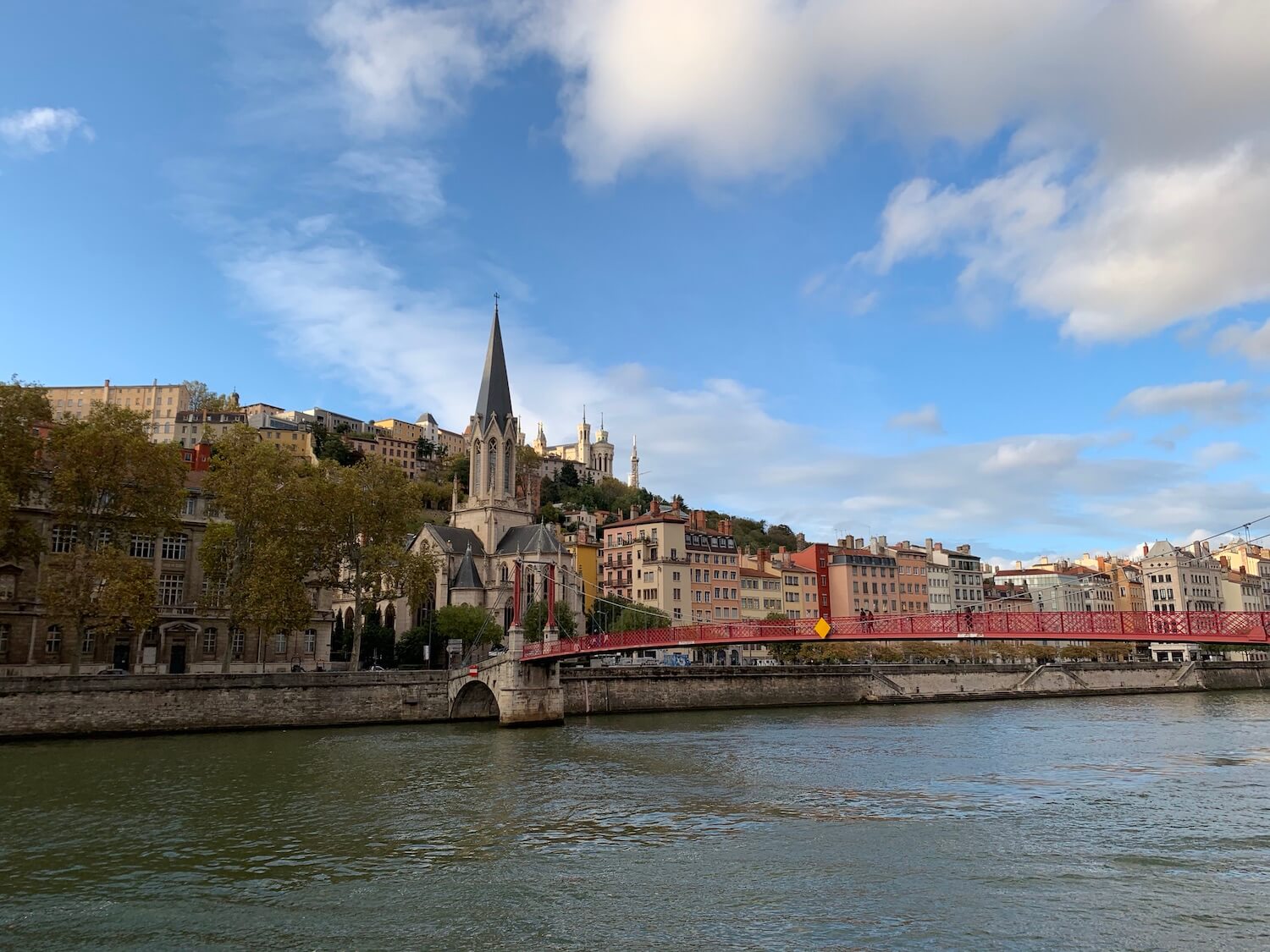 Away from Lyon: Perouges
About 30km away from Lyon, you can find a photogenic little town of Perouges, with the population of just about 1,200 people. It is surrounded by walls and is as medieval as it can get. As quoted by Lonely Planet:
It's worth braving the summertime crowds to stroll its uneven cobbled alleys, admire its stone houses and liberty tree on place de la Halle.
Pro tip: to avoid the crowds, visit Perouges off-season. In October, we were probably the only tourists in the whole village.
Annecy
Once a friend from Belgium said to me:
-Olga, it's weird how you keep coming to Belgium. Why? It's not a sexy country, like Italy or France.
At that time, I wasn't quite sure what he meant. But it's definitely towns like Annecy that make a country so sexy that people want to come back to it.
Annecy is a serious gem of the region Haute-Savoie. It's located on Lac d'Annecy (which is translated simply as "Lake Annecy") and is infused with antique charm. It managed to keep a number of its 16th- and 17th-century buildings, now painted in pink and peach and all the beautiful pastel colors.
Should you fancy a swim, Lac d'Annecy is said to have the cleanest waters in Europe. And even if not, a stroll around the lake with all its magestic mountaneous views is definitely worthwhile.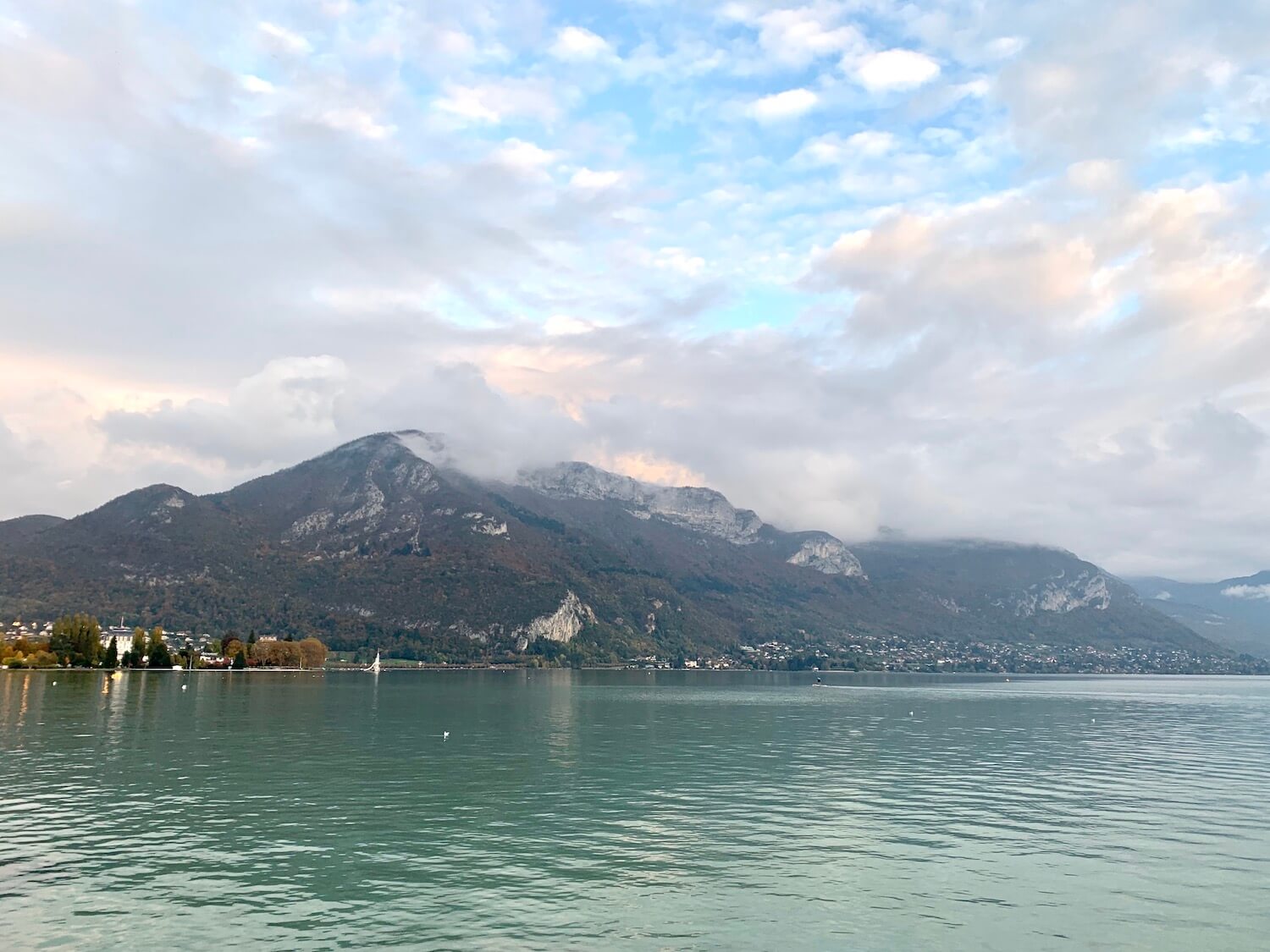 The city itself offers a number of sites to visit. And while it's a pleasure to wander around Annecy's medieval Vieille Ville (Old Town), Palais de l'Isle and Chateau d'Annecy are also in the top-3 attractions.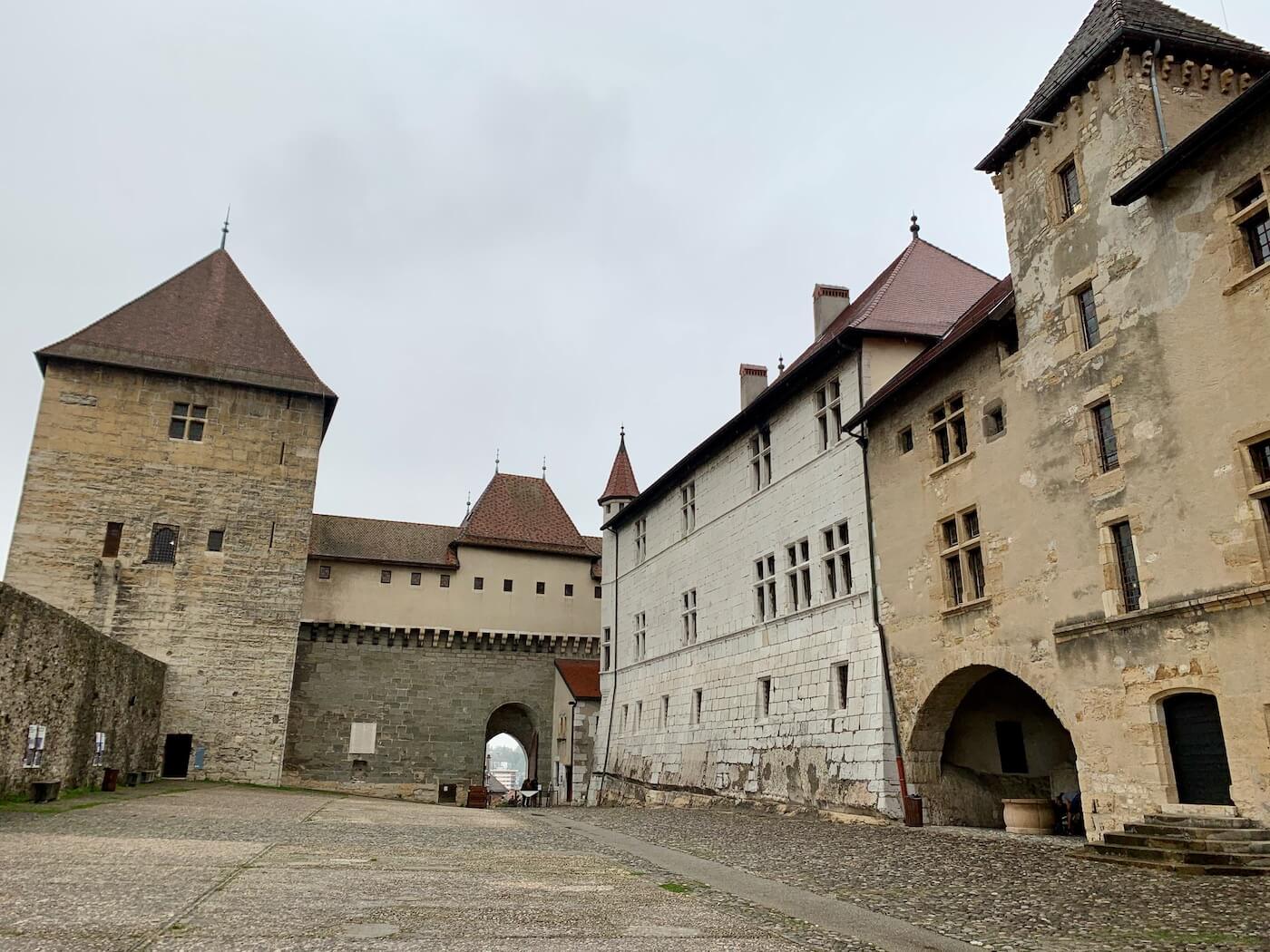 Visit the Annecy castle
Personally, Annecy was probably one of the main reasons our French trip was a success. Despite the rain, I loved the city so much, I definitely would like to come back here some time. It's the combination of nature, medieval charm, and quiet atmosphere that make the town oh so attractive.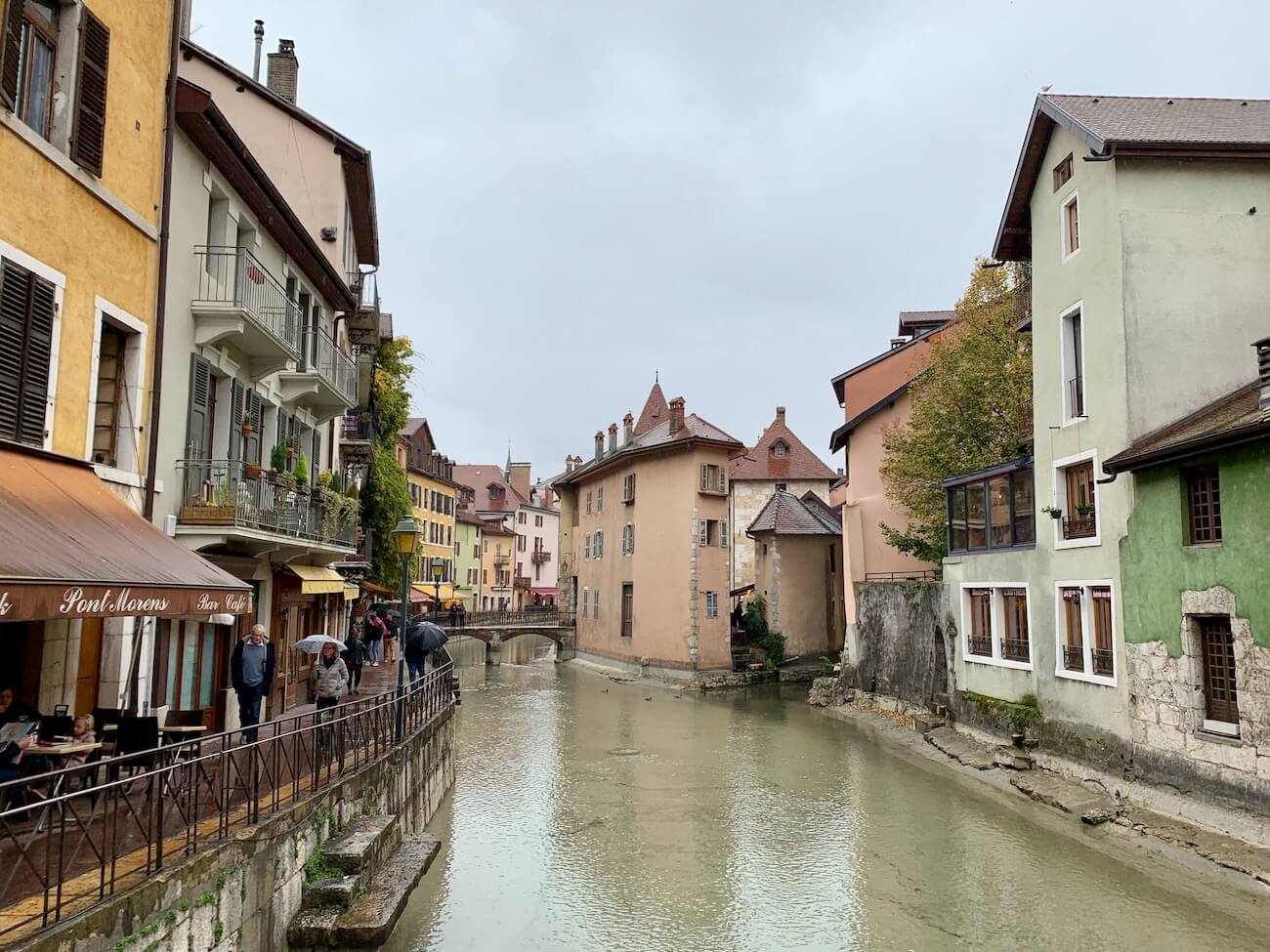 Chambery: the forgotten treasure of the French Alps
Our next stop: Chambery. Chances are, you haven't even heard of such a town. Meanwhile, it was Savoy's capital from the 13th century until 1563. Just like in other French towns that I got to visit on this trip, Chambery has an Old Town (Ville Ancienne), a majestic Cathedral, and – wait for it – a castle. Theirs is a beautiful medieval Chateau des Ducs de Savoie, though, not just some cheesy little building. So make sure you don't miss it when you're in town.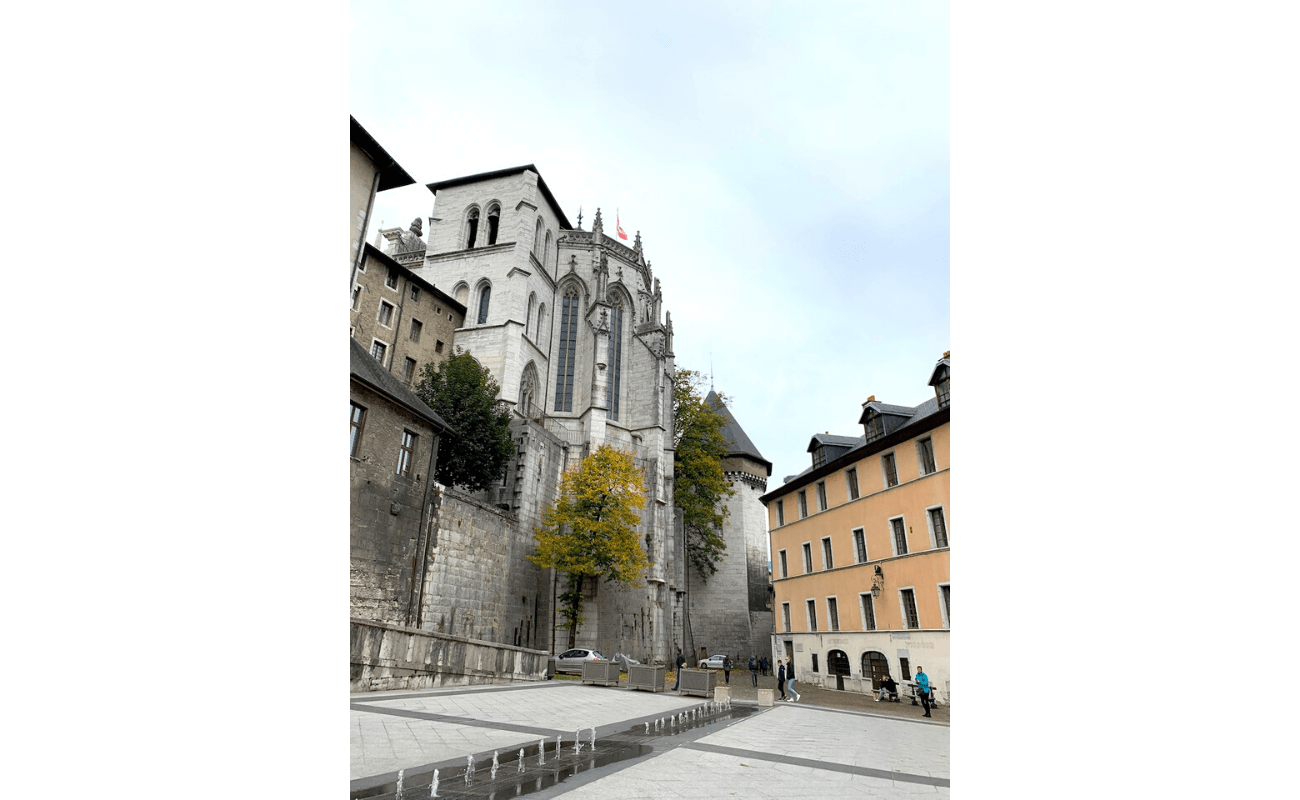 Chambery castle
I happened to arrive in Chambery in the afternoon on October 31. Like in many other European countries, November 1 is All Saint's Day in France. Which means that most shops close early the day before, and everything is shut down on Nov 1.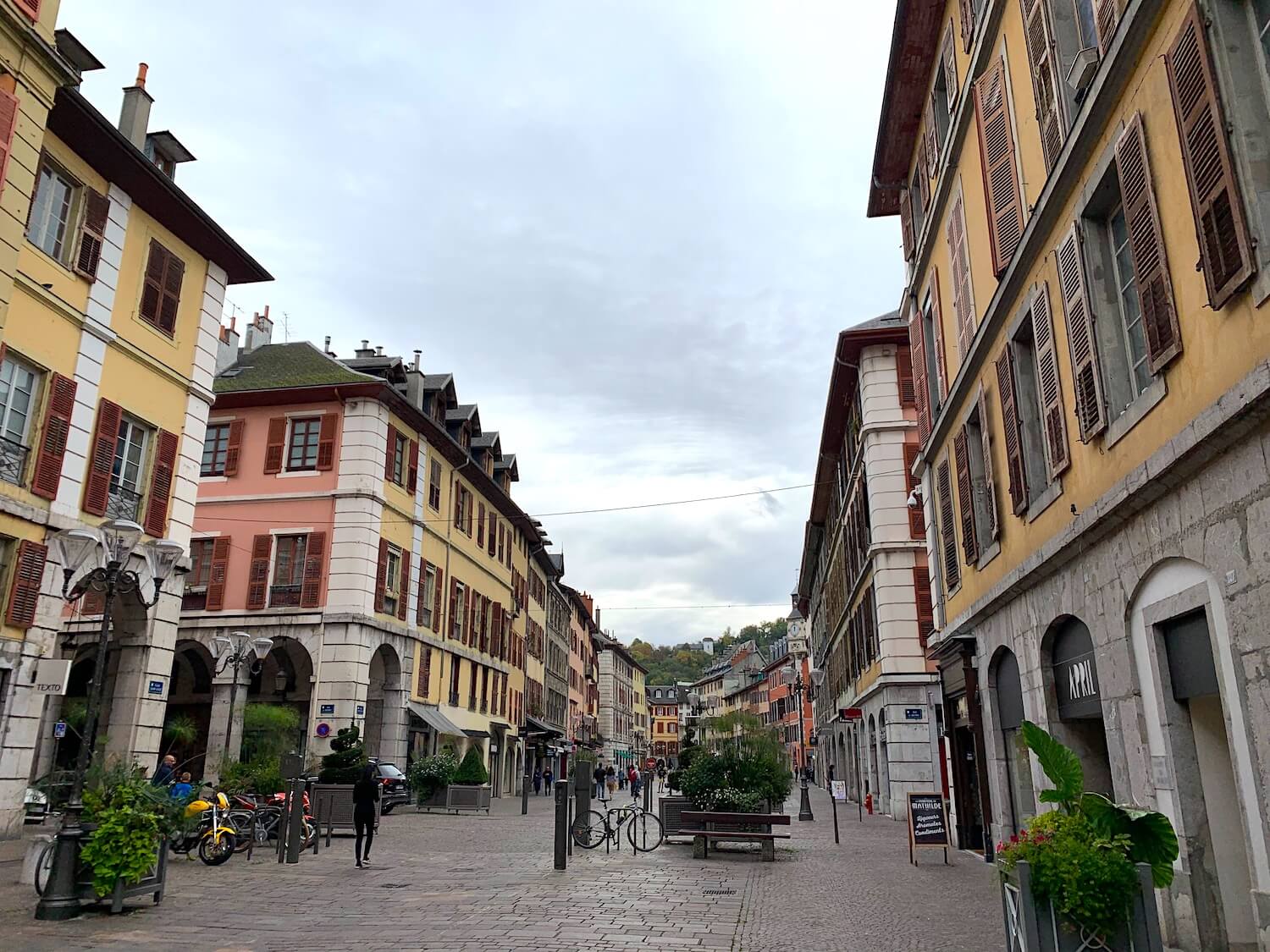 Streets of Chambery
It was interesting to witness French kids trick-or-treating in the streets of Chambery. Since the tradition comes from the US where it's common to go around the neighbourhood from house to house, it had to be adapted to the French realities. Therefore, the kids were running along the main shopping street of Chambery, going from one shop to the other (and even some bars!) asking for candies.
Do they have this tradition in your country?
(Not that) much to see in Grenoble
From Chambery, we headed south to Grenoble. Frankly, we didn't have any plans of what to do in the city, so we took it slow. Besides, I was not feeling my best from the cold, so mostly we stayed indoors in our Airbnb apartment.
Speaking of which, it had magnificent views of the city! I mean…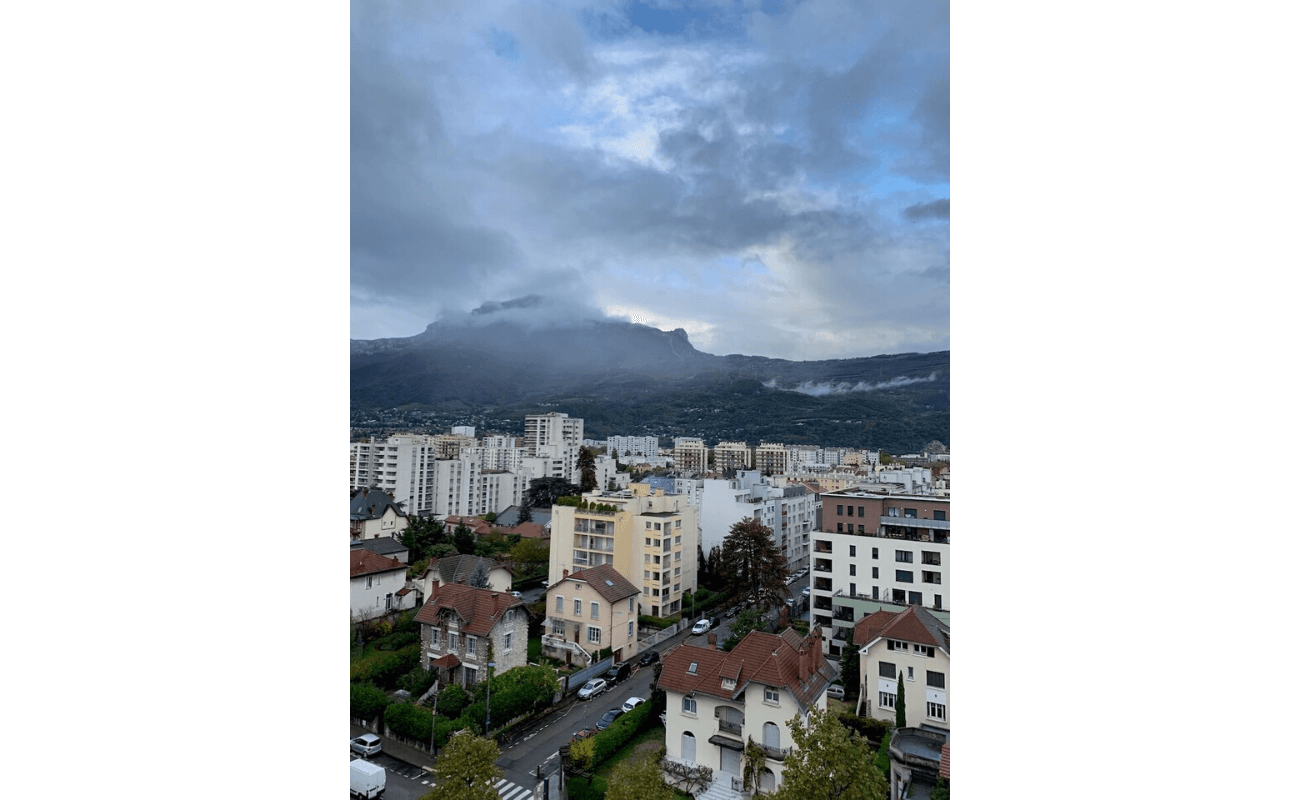 Views of Grenoble from our apartment
The surrounding nature is perhaps the most exciting thing about Grenoble. The city is quite nice and easily walkable but there is no "zest" to it, if you ask me. The one thing that is worth visiting is Fort de la Bastille, Grenoble's fortress located on a steep hill. Once you ride the telepherique ot take an hour-long stroll to the very top, you will get these breath-taking views of the city as a reward.
Grenoble as seen from Fort de la Bastille
A quick stop by Valence and Vienne
Our last two stops before getting back to Lyon were the cities of Valence and Vienne. We only spent a couple of hours in each one of those, so probably I wouldn't be an expert in either one. They are both cute and charming, and make a perfect day-trip from Lyon.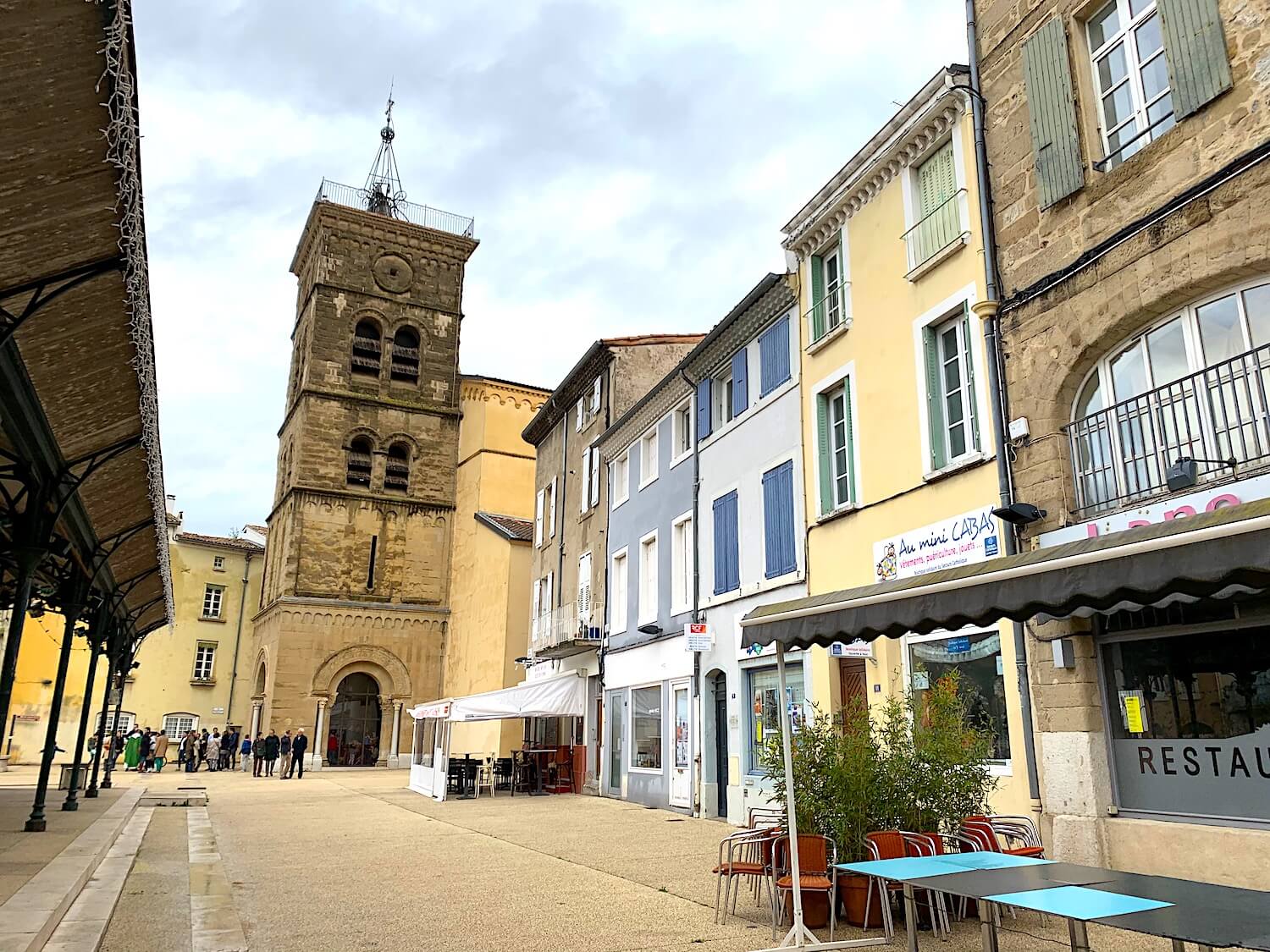 Valence, France
Especially Vienne, since it's closer and has an impressive Roman temple right on one of its medieval little streets.
Roman temple in Vienne
La fin
Our French trip to the Auvergne-Rhone-Alpes region was lovely and unexpected. It came to me as a surprise that the French are actually nice, sweet people who speak English and don't hate just about any tourist.
If you are looking for an off-the-beaten-track place to spend your vacation in France, look no further! Auvergne-Rhone-Alpes has it all: cute medieval towns, nature parks to hike, and even some Roman ruins. Oh joy, what else one can wish for?